O'Reilly Panelists Slam 'Civil Rights Industry': 'Myth' That 'White Racism' Is To Blame For Black Problems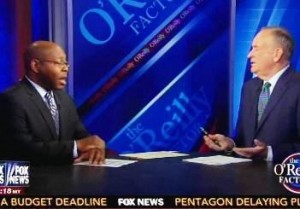 Bill O'Reilly has talked a lot about race this week, talking about issues in the black community he doesn't think others are willing to talk about. Tonight he continued looking at the issues of black-on-black crime and babies born out of wedlock, agreeing with his two panelists that the "civil rights industry" does a huge disservice" by attempting to blame the problems of the black community on "white racism."
O'Reilly asserted that many white Americans are "enabling the chaos" in places like Chicago and are just trying to "make excuses for bad behavior." He tore into the idea that the real issue with drugs in the black community is that blacks are getting harsher sentences than whites for the same drug crimes.
RELATED: Sharpton And Panel Bash O'Reilly, Right-Wing Radio: They Stoke Racial Fears For The Ratings
Wall Street Journal editorial board member Jason Riley agreed with O'Reilly, arguing that it's partly due to "black behavior" because it's not about committing the same crimes but about a pattern of continually committing them. He also slammed the "myth" that incarceration rates are driven by drug crimes, telling O'Reilly, "If you threw out all the people incarcerated because of drugs, the black incarceration rate would still be right around 37 percent."
Heather MacDonald added that people understand the outdoor drug trade is "destroying their neighborhoods," and noted how even though liberals are crying out that no one cares about dealing with inner city crime, stop and frisk does that and liberals disagree with that policy." O'Reilly found it remarkable how no one is willing to honestly report this story, not even civil rights leaders.
Riley and MacDonald agreed that civil rights leaders are more interested in promoting the "myth" of "blam[ing] the problems of blacks on… white racism," with MacDonald describing it as a "desire of victimology."
Watch the video below, via Fox News:
—–
Follow Josh Feldman on Twitter: @feldmaniac
Have a tip we should know? tips@mediaite.com
Josh Feldman - Senior Editor