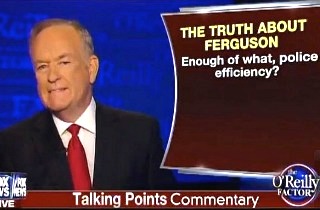 In his latest print column, Fox News's Bill O'Reilly says Michael Brown's affinity for rap music may have led him astray and influenced him to have a negative attitude toward police.
Brown is the black 18-year-old who was unarmed in Ferguson, Mo., when he was shot dead by a white police officer in early August. Brown was reportedly a fan of rap music and wrote some of his own rap lyrics.
"Michael Brown rapped about violence, smoking weed, making big money, and having sex with 'hos,'" O'Reilly wrote. "[T]hat does not automatically mean he was a thug. Far worse, it shows that he was not all that different from so many other young men who are stewing in a pernicious culture that glorifies violence and misogyny."
O'Reilly says in the op-ed that for "suburban" kids, rap music is usually a mere distraction. "But to young men with no fathers, no guidance, no structure, and very little hope, the thug life depicted in the music is a siren song."
The column then turns to criticism of President Barack Obama and the first lady for promoting what O'Reilly sees as similar entertainment:
So the President and First Lady honor a dubious "poet," [Common] invite a foul-mouth rapper [Big Sean] to "sing" as part of an Easter celebration, and regularly pal around with Beyoncé and Jay-Z. That's when Beyoncé isn't slithering salaciously and Jay-Z isn't talkin' 'bout some bitches. The First Family sets a stellar example for young blacks in many ways, but they seem to have a blind spot when it comes to popular culture.
"Rap music didn't kill him, a policeman's bullets did," O'Reilly concludes. "But who knows whether his attitude towards cops, shaped by violent music, played some role in any possible confrontation?"
Previously on his TV show, O'Reilly went after some news commentators for what he called their "lynch-mob justice" approach to the situation in Ferguson.
He has also targeted Beyoncé in the past.
[Image via Fox News/screen grab]
— —
>> Follow Eddie Scarry (@eScarry) on Twitter
Have a tip we should know? [email protected]