O Basterds! My Basterds! Why Quentin's Nazi Revenge Flick Will Win Best Picture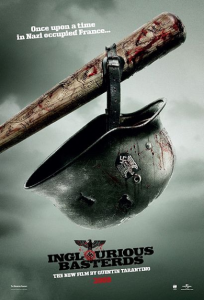 The Academy Awards are not yet over, so I'm going to make my prediction: Inglourious Basterds will win Best Picture.
I know, I know — it's been Hurt Locker's awards season, and so far, Hurt Locker's night. But that is precisely why I'm even more sure that Basterds will take the top spot.
Here's the thing: The Hurt Locker was an amazing, important film. But did I enjoy it? Of course not. It was very tough to watch, and while gripping, not exactly what you'd call a happy place. Basterds, while violent and shocking and about the Holocaust never you mind, was a damn fun movie to watch. People love that movie. They love talking about it, pulling it apart; they love the characters (Christoph Waltz! What a delightfully evil and charming villain! Shoshana, as badass a heroine as Quentin Tarantino has ever created! The Bear Jew, fetish object for niches across the Internet! Look, it's B.J. Novak and Mike Myers! And — Brad Pitt!). Oh and Diane Kruger's not too rough on the eyes, either.
Yes, Inglourious Basterds has had the benefit of the Harvey Weinstein marketing machine, not to mention a pretty smart ongoing campaign of marketing (hello, Rabbis, glad you enjoyed the film!). But none of that would matter if the movie wasn't good.
Look at previous awards shows — any time there was an ensemble cast award to be won, Basterds took it handily (People's Choice, Screen Actors Guild). It's been nominated for the key awards — screenplay, director, picture. So has Hurt Locker, obviously; and as Jason Reitman can tell you, numerous nominations does not an actual Oscar make. But — I think that Oscar voters like to reward the movies that they like. Hold that thought for a moment.
Consider the Oscar screener. Viewed in a home theater, most likely — so on a second watch of Avatar, which is dazzling in many ways but not really in its story, a voter would likely be less impressed than, say, in a giant IMAX theater. And, as mentioned above, Hurt Locker is a great film, an important film, but — yes — a challenging film. (The same way The Messenger is an important but challenging film. Up In The Air is not a challenging film.) Inglourious Basterds, on the other hand, hits that magical sweet spot: An important film (a Holocaust film, lest we forget what the Academy just loves), but still, a damn fun one — and one that is even more fascinating on the second watch, with new details revealing themselves like the little nuggets that Tarantino seems to bury just for the extra-obsessed fan.
And — bias declared — I'm Jewish. And what can I say, Jews seems to be extra-engaged by Inglourious Basterds, for obvious reasons. (See reference to bloodthirsty, revenge-crazed rabbis above; or, just a proud Jewish papa.) If I make a joke about Jews in Hollywood I will certainly not be the first; indeed, Steve Martin and Alec Baldwin made one about Basterds just tonight (about how easy it would be for Waltz's "Jew Hunter" in the Kodak Theater tonight). (Never mind recasting Jews as virile, badass avengers.) I'm not saying that there is bias in voting, per se — I'm saying that some movies strike a real chord. That's how hits are made. The effect they have on us, as audience even as we're doubling as critic, is real. If it hits the brain it's one thing, but if it hits the gut, well, that's quite another.
Okay, now: Let's go back to the thought I told you to hold. Cut to the bizarro new Best Picture rules. There are ten nominees — twice as many as usual — and along with the more wild-card, pot pourri nature of the competition, there's also equally wildcard new voting rules: You vote for your favorites according to rank. So — you can vote for the film you think ought to win, or the film you want to win, or your favorite; or for all the films you'd like to win over the one film you hate. This encourages strategic voting (see Steve Pond's Oscar picks at The Wrap) — but also frees people up to vote for their second-favorite film second, or their guilty-pleasure film second, or their anti-Avatar film second. You see where I'm going with this. This race has officially been Avatar vs. Hurt Locker, but if there was ever a dark horse that would come up the middle, it's Basterds.
And now, as the Oscars are almost over, Hurt Locker has kicked ass like a Bear Jew taking aim at a Nazi skull, and there are two big awards still to go: Best Director and Best Picture. Kathryn Bigelow will win Best Director, and should, for a variety of reasons (getting a picture made and overcoming the obstacles thereto is a big part of that). But with votes cast for Hurt Locker across the board, for all the big, pointed awards — well, the way is clear for Best Picture for just a little leeway. Especially when everyone else will surely vote for the other one, be it Hurt Locker or Avatar. And after all, you're supposed to rank your favorites accordingly, right? Of course right.
It's just a theory. At this point, no one knows except some dude in glasses a pocket protector at Price Waterhouse-Coopers. But — with minutes to go in the ceremony — I'm making the call: Inglourious Basterds will win Best Picture.
And should.
Have a tip we should know? tips@mediaite.com