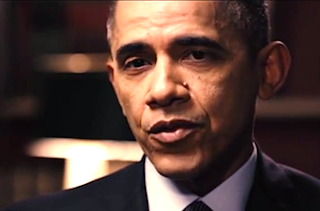 Does President Barack Obama ever want to "just go off on" climate deniers in Congress? "Yes, absolutely," he told New York Times columnist Thomas Friedman in an interview that will air as part of Showtime's Years of Living Dangerously series tonight.
Friedman previewed excerpts from the interview in his column Sunday as well as during an appearance on Face The Nation. When asked about the frustrations of dealing with a Congress full of (mostly) Republicans who discount climate science, the president said it can be challenging.
Obama told Friedman:
"Look, it's frustrating when the science is in front of us. … We can argue about how. But let's not argue about what's going on. The science is compelling. … The baseline fact of climate change is not something we can afford to deny. And if you profess leadership in this country at this moment in our history, then you've got to recognize this is going to be one of the most significant long-term challenges, if not the most significant long-term challenge, that this country faces and that the planet faces. The good news is that the public may get out ahead of some of their politicians" — as people start to see the cost of cleaning up for hurricanes like Sandy or the drought in California — and when "those start multiplying, then people start thinking, 'You know what? We're going to reward politicians who talk to us honestly and seriously about this problem.' "
The president added that part of job during the next two and half years in office will be "trying to shift public opinion" on the climate issue. " And the way to shift public opinion is to really focus in on the fact that if we do nothing our kids are going to be worse off," he said.
In the clip that aired on CBS Sunday morning, Obama stressed the national security implications of catastrophic climate change. "We're obviously concerned about drought in California or hurricanes and floods along our coastlines and the possibility of more powerful storms or more severe droughts. All of those things are bread-and-butter issues that touch on American families," Obama said. "But when you start seeing how these shifts can displace people — entire countries can be finding themselves unable to feed themselves and the potential incidence of conflict that arises out of that — that gets your attention."
That's why the defense secretary and Joint Chiefs of Staff have "identified climate change as one of our most significant national security problems."
Watch video below, via CBS:
[Photo via screengrab]
— —
>> Follow Matt Wilstein (@TheMattWilstein) on Twitter
Have a tip we should know? tips@mediaite.com