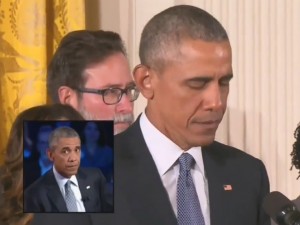 President Obama has taken a lot of unexpected and weird flak from opponents over the emotional moment when he broke down crying while announcing his slate of executive actions on gun regulation earlier this week. At Thursday night's CNN-hosted Guns in America town hall special, host Anderson Cooper got the chance to ask President Obama about that moment, and Obama took the opportunity to address some of that criticism, at least obliquely.
After emotionally recounting to Cooper the time he spent consoling loved ones in Newtown, the President assured Cooper that he's got plenty of room in his heart for the victims of other tragedies:
"I want to emphasize that there are a lot of tragedies that happen out there as a consequence to the victims of crime, you know, there are police officers who are out there laying down their lives to protect us every single day, you know, and tears are appropriate for them, as well. And I visit with those families, as well, victims of terrorism. Soldiers coming home. You know, there's a lot of heartache out there and I don't suggest that this is the only kind of heartache we should be working on. You know, I've spent a lot of time and a lot of hours, in fact, a lot more hours than I spend on this, trying to prevent terrorist attacks."
Following his speech Tuesday, the President faced an odd backlash from conservative media figures who either felt his tears were insincere, or that he should be crying more for other types of violence. His response to Cooper would seem to be a way of responding to those critics, a courtesy they likely didn't deserve.
Have a tip we should know? tips@mediaite.com