Obama Addresses DOJ Leak Investigations: 'Journalists Should Not Be At Legal Risk For Doing Their Jobs'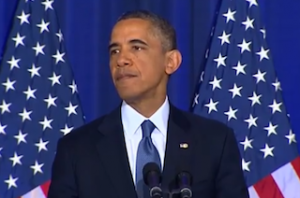 President Obama's major, hour-long speech on his administration's counterterrorism policy today focused mainly on his defense of drone strikes and was nearly derailed by a protester who heckled the president over comments concerning renewed efforts to close the Guantanamo Bay prison. But Obama also briefly addressed the Justice Department's recent investigations into national security leaks as part of the broader challenge to "strike the right balance between our security and our open society."
The president attempted to draw a link between the increase in "homegrown" terror plots and maintaining "civil liberties" for all Americans. "As Commander-in Chief," he said, "I believe we must keep information secret that protects our operations and our people in the field. To do so, we must enforce consequences for those who break the law and breach their commitment to protect classified information."
"But a free press," Obama continued, "is also essential for our democracy. I am troubled by the possibility that leak investigations may chill the investigative journalism that holds government accountable. Journalists should not be at legal risk for doing their jobs."
The president confirmed his administration's commitment to a new "media shield law," as had been previously reported and also outlined other steps he will take to address the media's concerns.
"I have raised these issues with the Attorney General," Obama said. "He has agreed to review existing Department of Justice guidelines governing investigations that involve reporters, and will convene a group of media organizations to hear their concerns as part of that review. And I have directed the Attorney General to report back to me by July 12th."
Whether these steps and statements will satisfy a press that is increasingly wary of the Justice Department is yet to be seen.
Watch video below, via C-SPAN 3:
—
>> Follow Matt Wilstein (@TheMattWilstein) on Twitter
Have a tip we should know? tips@mediaite.com