Obama Addresses NSA Uproar: 'Nobody Is Listening To Your Phone Calls,' 'You Can't Have 100% Privacy'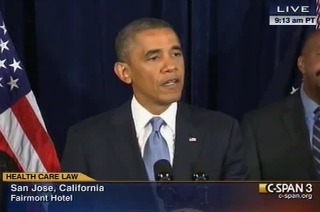 On Friday, President Barack Obama reacted to the news that the National Security Agency has been keeping secret databases of Americans' electronic and telephonic communications. Obama said that these programs are both effective and overseen by members of the administration and Congress. Further, he welcomed a debate over the balance between security and privacy that he said was not a priority for some Republicans when President George W. Bush occupied the Oval Office.

Obama said that he takes seriously his responsibility to both keep Americans safe and to observe the constitutional right to privacy.
He said that, with regard to NSA's maintenance of a database of telephonic metadata, "every member of Congress has been briefed" on those programs.
"These are programs that have been reauthorized by broad, bipartisan majorities repeatedly since 2006," he continued. "Your duly elected representatives have been consistently informed on exactly what we're doing."
The president added that the "hype" surrounding the NSA revelations is largely unwarranted. He said that "nobody is listening to your phone calls" and that if the feds decided to actually listen in, they would have to go back and ask for a warrant from a FISA court judge by showing probable cause.
RELATED: Fox Hosts Rip Obama's Hypocritical Embrace Of Bush Policies: 'Uncle Sam Turns Out To Be Big Brother'
Regarding the news that the PRISM program had been keeping records of electronic data, Obama said that the program does not apply to American citizens or to anyone living in the United States.
"Not only is Congress fully apprised of it but, what is also true, is that the FISA court has to authorize it," Obama continued.
He then turned to the philosophical debate surrounding the nature of balancing Americans' security concerns with those of privacy.
"I welcome this debate," Obama said, "and I think it's healthy for our Democracy. I think it's a sign of maturity because probably five years ago, six years ago, we might not have been having this debate."
"I think it's interesting that there are some folks on the left, but also some folks on the right who are now worried about it who weren't very worried about it when it was a Republican president," Obama continued.
He noted that his administration undertook an overhaul of these programs when he took office.
"I think it's important to recognize that you can't have 100 percent security and also then have 100 percent privacy and zero inconvenience," the president noted. "Were going to have to make some choices as a society."
Watch the clip below via C-SPAN 3:
> >Follow Noah Rothman (@NoahCRothman) on Twitter
Have a tip we should know? tips@mediaite.com