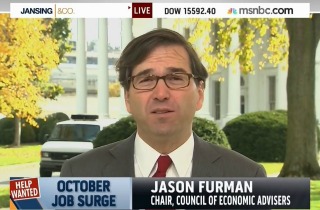 Republicans have claimed for months that the mandatory spending cuts contained within the Budget Control Act, also referred to as sequestration, are responsible for the nation's declining budget deficit. On Friday, an advisor to President Barack Obama countered this narrative and insisted that the Affordable Care Act is largely responsible for deficit reduction.

On Friday, MSNBC anchor Chris Jansing spoke with Jason Furman, chairman of the president's Council of Economic Advisors, about the October jobs report which showed that over 200,000 new jobs were added to the economy but the official unemployment rate also increased to 7.3 percent.
Furman said that the news was good, but that more needs to be done to increase the amount of people in the job market and to bring the deficit down.
"You know what the Republicans would say," Jansing queried. "The effect of the sequester has been terrific on the debt and in fact they would take a lot of credit for what we're seeing right now in debt reduction. What would you say?"
"If you look at the biggest thing that are cutting our deficit over the medium and long run, it's actually the Affordable Care Act," Furman asserted. "Which is, you know, by bringing down the cost of health care, that doesn't just help our economy, it helps bring our deficit down."
House Minority Leader Nancy Pelosi (D-CA) made a similar argument in May when she said that the ACA "is what is largely responsible for the deficit coming down."
Watch the clip below via MSNBC:
[Photo via screen grab ]
— —
> >Follow Noah Rothman (@NoahCRothman) on Twitter
Have a tip we should know? tips@mediaite.com