Obama Adviser Grilled On WH Selling Access To Donors On CBS: 'Isn't This Exactly A Double Standard?'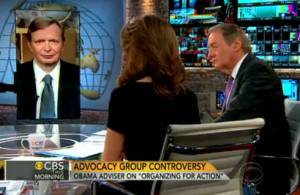 Jim Messina, Organizing for America chairman and former Obama campaign manager, paid a visit to CBS This Morning on Friday, refuting the notion that the group is selling access to President Obama and the White House to big donors.
OFA is the post-campaign reboot of Obama for America, set up as a nonprofit "social welfare" group. Charlie Rose began by noting to Messina that this is the type of tactic that Obama would criticize Republicans for, "and that it sounds like giving people the opportunity to pay for access."
As Messina sought to explain that it's a grassroots groups focused on supporting the president's agenda, Rose pressed, "It's clear that people who contribute to this are promised some ability to come to the White House and meet with the president."
"No, that's actually not true," Messina pressed. "This organization is being fueled by grassroots donations across the country. The average contribution was $51 in the campaign."
"Will they have access to the president?" Rose repeated bluntly. Messina said the president he will "communicate to his grassroots supporters and ask for their help."
Rose followed up, "In the White House?"
No, Messina said. "There will be events where our supporters are briefed about what he is doing," he informed, adding that "this organization's only goal is to help this president pass his agenda."
At this point, Norah O'Donnell jumped in, conveying that Messina surely must understand the concern over the issue. "You have said that people who contribute $50,000 or more may have an opportunity to meet with the president, cabinet members, all of you who are very close to the president," she remarked, observing that Messina wasn't exactly ruling out a meeting with Obama.
"Isn't this exactly a double standard?" she asked. "You ran a whole campaign about Mitt Romney's secrecy and access to special interests — and now you've got people who can contribute unlimited amounts of money and the president will go talk to them."
"We're going to disclose every single contribution we get, we'll be as transparent as possible, and we're trying to build a network to help pass his agenda," Messina repeated, again highlighting the term "grassroots."
Take a look, via CBS:

Have a tip we should know? tips@mediaite.com