Obama Adviser Uses White House Construction As Proof That We're 'Just Creating Jobs Everywhere!'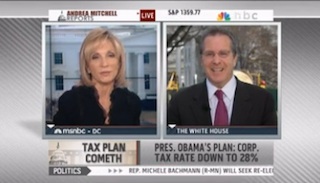 Welcome to the latest edition of "Someone Says Something Vaguely Insensitive While On Andrea Mitchell Reports!" Following up such wonderful guests as Foster Friess and Alice Stewart, comes Gene Sperling, the White House's Director of the National Economic Council and Assistant to the President for Economic Policy. On the show today, Sperling joked that the administration was making jobs everywhere! His proof? There was a bunch of construction going on behind him…on a house…that's the White House.
The comment came during a conversation of the just proposed corporate tax cut. He was speaking to Andrea Mitchell via satellite from the lawn of the White House and, throughout the segment, there was a ton of construction going on in the background (looks like Joe Biden finally got that game room he asked for!). At the end of the discussion, Mitchell remarked on the noise and Sperling joked that they were "just creating jobs everywhere!" The MSNBC host, who's getting a lot of practice on her reactions, dryly responded, "At least there."
Look, Sperling just made a little joke. It's not the end of the world. Good for him for not being another humorless political guest. Still, just like you shouldn't do a segment on job loss from a fancy resort, you also shouldn't joke about how many jobs there are…at the White House. It just looks tacky.
All I'm saying is, if the biggest problem in the nation was food shortages, I wouldn't want to hear any politicians bragging about the White House's sweet fridge.
Watch the clip from MSNBC below:
Have a tip we should know? tips@mediaite.com