Obama: America's 'Opportunity Gap' as Much 'About Class as It Is About Race'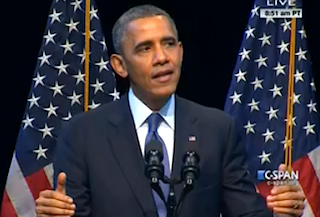 During a lengthy speech before the Center for American Progress, a progressive think tank in Washington, D.C., President Barack Obama laid out his economic agenda for the coming years, with a focus on income inequality as the "defining challenge of our time." But the president also acknowledged a shift in the "opportunity gap" in America, which he said is not "as much about class as it is about race."
"The decades-long shifts in the economy have hurt all group," Obama said. "Poor and middle class, inner city and rural folks, men and women, and Americans of all races." No longer is increased inequality hurting primarily the "urban poor" in the "inner city," the president said, but throughout the country. "The gap in test scores between poor kids and wealthy kids is now nearly twice what it is between white kids and black kids," he said, as an example of his point.
"The fact is this," he continued. "The opportunity gap in America is now as much about class as it is about race, and that gap is growing. So if we're going to take on growing inequality and try to improve upward mobility for all people, we've got to move beyond the false notion that this is an issue exclusively of minority concern."
In a rejection of his conservative adversaries who often draw a line between "makers" and "takers," Obama said, "We have to reject a politics that suggests any effort to address it in a meaningful way somehow pits the interest of a deserving middle class against those of an undeserving poor in search of handouts."
With his speech, President Obama attempted to move the question on economic inequality beyond the realm of race and demonstrate that the issue touches all poor and middle class Americans.
Watch video below, via C-SPAN:
[photo via screengrab]
— —
>> Follow Matt Wilstein (@TheMattWilstein) on Twitter
Have a tip we should know? tips@mediaite.com