Obama Asks 'Unelected' Supreme Court Not To Take Extraordinary Step Of Overturning Health Care Law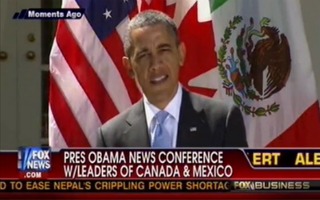 In a Rose Garden press conference on Monday alongside the Mexican President Felipe Calderon and Canadian Prime Minister Stephen Harper, President Barack Obama reminded the Supreme Court justices that they have a responsibility to show "judicial restraint" while considering the constitutionality of the president's signature health care reform law.
RELATED: Senate Democrats Warn Overturning Health Care 'Grave For Nation,' Good For Democratic Electoral Hopes

"I think the American people understand, and I think the justices should understand that in the absence of an individual mandate, you cannot have a mechanism to insure that people with pre-existing conditions can actually get health care," Obama said. "So there's not only an economic element to this and a legal element to this, but there's a human element to this. And I hope that's not forgotten in this political debate."
President Obama issued a veiled warning that the public would not take kindly to the court's overturning of the health care law and may view it as the overstepping of the court's narrowly defined constitutional jurisdiction. "Ultimately, I'm confident that the Supreme Court will not take what would be an unprecedented, extraordinary step of overturning a law that was passed by a strong majority of a democratically-elected Congress," Obama said.
Finally, the president turned towards conservative opinion leaders and reminded them of their past objection to judicial activism and legislating from the bench. "I just remind conservative commentators that for years what we've heard is the biggest problem on the bench was judicial activism or a lack of judicial restraint – that an unelected group of people would somehow overturn a duly-constituted and passed law. Well, this is a good example, and I'm pretty confident that this court will recognize that and not take that step," the president concluded.
The president's health care reform law, and the pivotal individual mandate which funds the expansion of health insurance coverage to the uninsured, was subject to three days of oral arguments in the Supreme Court last week. Some interpreted several pivotal justice's line of questioning as indicating their objection the present incarnation of the health care reform law.
Watch the press conference below via Fox News Channel:
Have a tip we should know? tips@mediaite.com