Obama, Biden Toast Congress During Inaugural Luncheon: 'Democracy Is Not Always Easy'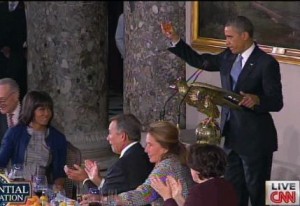 On Monday afternoon, President Obama and Vice President Joe Biden offered toasts during the inaugural luncheon. The president noted that while there were "profound differences" among those in the room, he was thankful for everyone's service.
Before Obama spoke, Biden reflected on past luncheons, appreciating the way the bring everyone together. "It really is the place where we get together in a different way than every other time we gather," he said, also remarking, "I used to enjoy this lunch more than anything we did in the Capitol."
He ended on a light-hearted note, toasting a "man who never, never, never operates out of fear, who always operates out of confidence" — eliciting laughs when he added that he was referring to Sen. Chuck Schumer (D-NY).
For his part, Obama spoke directly to Biden, congressional leaders, and all other members of Congress to offer a "thank you" for their service to "try to advance the cause progress in this country." He specifically noted the sacrifices made my those in his Cabinet.
"I recognize that democracy is not always easy," Obama remarked, expressing confidence that they can act in a way that makes a difference. About the presidency itself, he commented on its irony: "The longer you are there, the more humble you become."
The president ended with a toast to First Lady Michelle Obama. "There is controversy about the quality of our president," he said, "no controversy about the quality of our first lady."
Watch below, via CNN:

Have a tip we should know? tips@mediaite.com