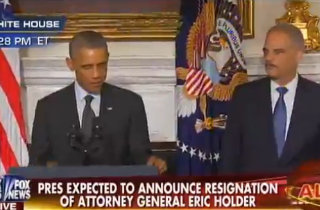 Hours after the news broke that U.S. Attorney General Eric Holder will resign from his position, President Barack Obama bid farewell to the top lawyer in a press announcement at the White House.
"Bobby Kennedy once said, 'On this generation of Americans falls the full burden of proving to the world that we really mean it when we say, all men are created free and equal before the law,'" the president began his remarks. "As one of the longest-serving attorney generals in American history, Eric Holder has borne that burden."
"This is bittersweet," Obama said of his close friend and cabinet member's departure. "Eric has agreed stay on as Attorney General until I nominate his successor and the successor is confirmed by the Senate."
Praising Holder's long career in public service, Obama said the outgoing attorney general "has shown a deep and abiding fidelity to one of our most cherished ideals as a people: equal justice under the law." That fidelity, he added, is why he originally nominated him to be "America's lawyer," or, "The people's lawyer," as the president clarified.
Obama went on to praise Holder for helping oversee the "largest mafia takedown in American history" along with working to reduce drug sentencing disparities, incarceration rates, and crime rates.
"Thanks to Eric's efforts," Obama concluded, more Americans, "regardless of race or religion, gender, creed, sexual orientation or disability, will receive equal treatment under the law."
Watch the full remarks below, via Fox:
— —
>> Follow Andrew Kirell (@AndrewKirell) on Twitter
Have a tip we should know? tips@mediaite.com