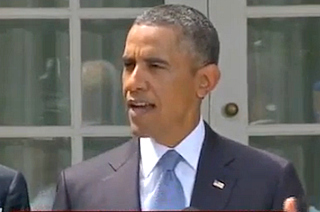 Speaking from the White House Rose Garden Saturday afternoon, President Barack Obama made the case that the United States had to intervene in Syria to prevent further use of chemical weapons, but said he would first seek congressional approval for military action.
"In a world with many dangers, this menace must be confronted," Obama said with Vice President Joe Biden by his side. "We cannot and must not turn a blind eye to what happened in Damascus."
Obama emphasized that Syria's use of chemical weapons—"the worst chemical weapons attack of the twenty-first century"—violated a longstanding global prohibition, and that without a response it "risks making a mockery of our global prohibition on chemical weapons."
Obama affirmed that would seek military strikes "designed to be limited in duration and scope," focused on "deterring" chemical weapons strikes and "degrading" his ability to do so. He also stated that U.S. ability to so intervene was not time sensitive, and coud be carried out at any point.
While he maintained his authority to initiate military strikes against Syria without "specific congressional authorization," Obama maintained that "our country wil be stronger" if military actions are approved by the legislative body, and said that congressional leaders agreed.
"All of us should be accountable as we move forward, and that could only be accomplished with a vote," Obama said.
Obama also said that he was "comfortable" proceeding without U.N. approval.
Obama's remarks comes after Secretary of State John Kerry said the United States had compelling evidence that the Syrian army used chemical weapons in an attack that killed almost 1,500 Syrian citizens, one-third of them children.
The Syrian conflict began as protests two years ago as part of the Arab Spring, but when Syrian President Bashar al-Assad reacted violently to activists, the situation escalated into a long and bloody civil war, which has thus far claimed the lives of over 100,000 Syrians and created considerably more refugees.
Watch the full statement below, via Fox News:
————
>> Follow Evan McMurry (@evanmcmurry) on Twitter
Have a tip we should know? tips@mediaite.com