Obama Campaign Guru Who Interviewed The President Complains Of Increasingly 'Skewed' Media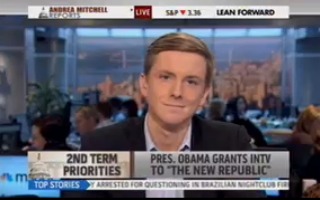 Publisher of The New Republic, Chris Hughes, along with his colleague Franklin Foer, landed a scoop recently when they scored an Oval Office interview with the President of the United States. The interview made news, too, featuring the president opening up about his thoughts on an increasingly biased media that misrepresents facts and breeds confusion among the public. Though he could have been, the president was not talking about Chris Hughes when he made those comments.

Hughes, co-founder of Facebook, was an online organizer for Obama and a donor to his presidential campaign in 2008. In fact, he was key to the president's celebrated social media campaign. Fast Company magazine named him "The Kid Who Made President Obama." Forbes reported that the president himself called Hughes "my internet man!" Now a journalist, Hughes appeared on MSNBC with Andrea Mitchell on Monday, sans irony, where he elaborated on the president's lamentations about how the media has become "skewed" against him.
Hughes was first asked about the president's stand on entitlements by Mitchell who said that she detected a softening from the hardline stance Obama took in his inaugural address opposing entitlement reform.
Hughes replied that Obama singled out Speaker John Boehner (R-OH), among others, as being moderate Republicans that he could work with while noting that other members of Boehner's Republican conference are intransigent and make compromise impossible. Here, Hughes serves as a vehicle to advance the nearly transparent, andregularly observed, presidential strategy of fracturing the Republican Party and pitting its members against one another.
Hughes went on to say that the president singled out conservative media as the second pillar of Republican intransigence. "Rush Limbaughs and the Fox Newses of the word keep the pressure on – on the House and Congressional Republicans," Hughes said. "And they're so strong about it that it makes it difficult for him to actually have a meaningful conversation or find common ground."
"I thought it was very unusual that he called out Fox," Mitchell said, evidently blocking out all the events of 2009 when the White House waged a public and rather demeaning "war" against the conservative cable network. "Was that in answer to a question? Was that a prompt or did he come up with that himself?" Mitchell asked.
"No, it was actually one of the questions that I asked," Hughes replied. He said that he asked about why Obama has been unable to usher in the inspiring era of comity he promised to deliver in 2008. Hughes said Obama replied that it was the media which helped prevent this utopian present day from coming to pass.
"The larger point that he was trying to make was that the media has become increasingly skewed over the past few years, so that oftentimes, whether it's on twitter or on television, we tend to listen to the people that we agree with rather than the people that we disagree with," Hughes added.
Whatever their intentions, the administration's decision to communicate the president's frustration with "skewed" journalism via a "skewed" journalist effectively neuters the point.
Watch the clip below via MSNBC:
> >Follow Noah Rothman (@NoahCRothman) on Twitter
Have a tip we should know? tips@mediaite.com