Obama Campaign Manager Has Combative Interview With Andrea Mitchell Over Gay Marriage
Obama Campaign Mgr. Has Combative Interview On MSNBC Over Gay Marriage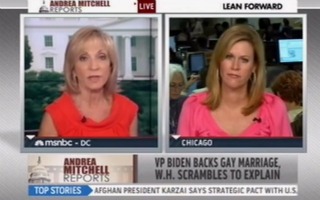 Stephanie Cutter, President Barack Obama's deputy campaign manager, told MSNBC's Andrea Mitchell that she was "not going to make news on the President's position on gay marriage," during a contentious interview on Monday. Mitchell hammered Cutter on the President's "evolving" position on gay marriage rights after Vice President Joe Biden and Education Sec. Arne Duncan appeared to contradict president Obama on the issue in the last several days.

RELATED: VP Joe Biden Comes Out In Favor Of Gay Marriage, Name-Drops Will & Grace
Mitchell opened the segment with Cutter discussing Vice President Biden's comments on NBC's Meet the Press on Sunday, where he expressed his support for gay marriage. Biden's sentiments were echoed by Sec. Duncan on MSNBC's Morning Joe on Monday.
"Why is the President taking so long to, quote, evolve on this," Mitchell asked Cutter. "He doesn't hesitate to take a lot of money from gay supporters – it's a key part of his base – and I guess the calculation is that they have no other place to go because the Romney campaign is certainly not going to support them. But it does seem as though the president is taking a long time to come to this position."
Cutter said she took issue with the way in which Mitchell framed the issue. "The Vice President has made similar remarks before – many times – and he's really expressing where the President is," said Cutter. She cited the administration's ceasing to enforce the Defense of Marriage Act via the Justice Department and the repeal of Don't Ask, Don't Tell as evidence that the Obama administration supports equal rights for gay and lesbian couples.
"We have a record that we are proud of," said Cutter. "There are significant accomplishments in this administration to ensuring equality for everybody."
Mitchell reiterated her initial question to Cutter on what Biden was asked while on Meet the Press, to which Cutter replied "I don't want to parse the Vice President's words."
Mitchell took the opportunity to read from the transcript of the interview on Meet the Press and asked if President Obama was comfortable with Biden's comments.
"Andrea, I'm not going to make news on the President's beliefs on gay marriage today," said Cutter. "This is an election and elections are about choices, and let's not forget that Mitt Romney wants to write discrimination into the Constitution." She continued to say that Romney wants to roll back protections on gay couples that the Obama administration has fought for.
Watch the segment via MSNBC:
Have a tip we should know? tips@mediaite.com