Obama Campaign Manager: Idea Of Romney Winning Pennsylvania Is 'Not Based In Reality'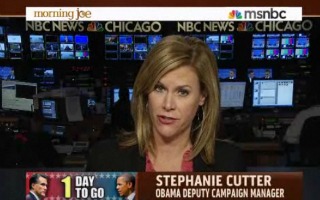 The Obama re-election campaign's deputy manager, Stephanie Cutter, appeared on Monday's Morning Joe, where she spoke bluntly about rival candidate Mitt Romney's chances, as she sees them.
Host Mika Brzezinski kicked off the segment by noting that "some of these polls are looking a little too close for comfort."
"Well, Mika, I've been listening to the conversation over the past couple of minutes," said Cutter, "and I think that lots of points have been made about how this is really — one, it's a race to 270 electoral votes — but the polls that matter are the polls that are happening in the states. You know, it's a close race, there is no doubt about that, but we have the advantage in critical states like Ohio. You know, no Republican's ever won the White House without going through Ohio. And we feel pretty good about where we are right now."
But, Brzezinski added, the map can be "redrawn."
While Cutter agreed that it can be expanded, she said that there's no evidence that Romney has been able to accomplish that, adding that the idea that he can win Pennsylvania is "not based in reality."
"Obviously, you guys are concerned enough about Pennsylvania that you're sending Bill Clinton in there and Joe Biden's been in there," Joe Scarborough pointed out. "So, you say it's not based in reality. There is an outside shot Romney can win there, right?"
"Well, I don't think it's possible, Joe," Cutter replied. "I mean, you know, we're sending Bill Clinton in there because we're not going to take anything for granted." But, she added, Romney hasn't made the on-the-ground effort in that state that the Obama campaign has.
Check it out, courtesy of MSNBC:
Visit NBCNews.com for breaking news, world news, and news about the economy
Have a tip we should know? tips@mediaite.com