Obama Campaign Plays With Fire By Embracing Popular, Iconoclastic President Bill Clinton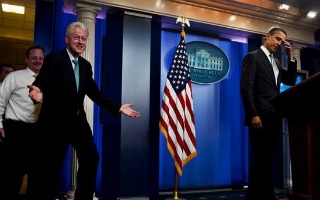 Barack Obama's reelection campaign has recently impressed former President Bill Clinton into the effort. The Obama 2012 team is hoping the popular former Democratic president will raise funds and resonate with voters that have chilled to Obama over the course of his first term. But Clinton is a double edged sword for Obama – he has shown a willingness to be sharply critical of of the President just as often as he has been supportive.

RELATED: Bill Burton Was Way Ahead Of Obama 'Campaign Whisperer' Bill Clinton On Redefining Romney
CNN hosted a conversation on the topic of Clinton's usefulness to the Obama campaign on Monday. There, conservative commentator Tara Wall isolated some of the skepticism as to just how useful Clinton will be to the Obama reelection effort, given how public the two Democratic president's disagreements have been.
"There is no love between these two," said Wall. "It was Bill Clinton that said President Obama was not ready for office. It's ironic that it was President Obama that cited Ronald Reagan in fact and not Bill Clinton had some missed years there and missed the mark."
Regardless of the level of mistrust between the two, the show of unity is already well underway.
Former President Bill Clinton appeared with President Obama on Sunday for their first joint fundraiser at the Virginia home of former Democratic National Committee Chair Terry McAuliffe. The fundraising event comes on the heels of President Clinton's appearance in a highly publicized Obama reelection video that features the decision making leading up to the death of Osama bin Laden in May 2011.
The Obama campaign's embrace of President Clinton may be a double edged sword for the President's 2012 reelection efforts. President Clinton has shown on multiple occasions that he is not shy about criticizing or embarrassing President Obama.
In Mark Halperin and John Heilemann's much ballyhooed chronically of the 2008 presidential campaign, Clinton's quote about Obama – that a few years ago Barack Obama "would have been getting us coffee" – infuriated the late Sen. Edward Kennedy and forced the Democratic party's operatives into the uncomfortable position of having to simultaneously defend President Clinton while denouncing his remarks.
The now-infamous December 2010 press conference in which President Clinton took the podium in the James Brady Press Briefing Room while President Obama excused himself created a serious narrative issue for Obama.
Already fending off allegations that the young and inexperienced one-term senator-turned-President was in over his head just weeks after a crushing midterm defeat of his party, the appearance of Clinton seeming to take the reins of the office confirmed the impression that the Obama presidency was in trouble. Surely, Clinton, a consummate and accomplished politician and master of the theatrics of politics, was aware of how that awkward moment would be portrayed in the press. That awareness did not stop him from holding court before the White House press corps long after the President had left.
In June, 2011, President Clinton again embarrassed President Obama in a pitch for his new book Back to Work: Why We Need Smart Government for a Strong Economy by jumping right off the Democratic party's bandwagon on tax policy. Clinton published an article in Newsweek Magazine in which he decried tax increases amidst a sluggish economic recovery.
The damage-control, led by organizations like Washington Post, said that Obama and Clinton really had the same position – and they both would defer tax increases until 2013 when the economy would ostensibly be better able to absorb tax increases. But the political damage of the moment was done. The spin betrayed the fact that when voters head to the polls in 2012 that tax increases will be on the ballot. President Clinton did a world of damage to the President by exposing the daylight between the two on the issue of tax increases.
There are a number of possible motives for President Clinton's frequent sojourns off the reservation of approved Democratic talking points – all are highly conjectural and some are notably conspiratorial.
Some have suggested that Clinton retains some residual resentment after a contentious primary battle between his wife, Sec. Hillary Clinton, and Obama in 2008 resulted in a number of intraparty feuds. Clinton was even forced to issue a statement saying "I am not a racist." That would make anyone a little ornery, particularly a Democratic hero like Clinton.
Whatever the impetus behind Clinton's forays into criticism of Obama's domestic initiatives, it is true that Obama likely needs the 42nd President for his reelection efforts. In 2010, more than six in ten adults viewed President Clinton favorably – President Obama lacks that level of acceptance among the general electorate.
But the Obama campaign is playing with fire by embracing Bill Clinton as they have. The iconoclastic and well-liked former president has displayed few qualms about disagreeing with President Obama in public and damaging ways. Obama will be taking heat from all sides over the next several months leading up to the election. The last thing he needs is to be taking heat from one of the most popular figures in his party over that same period.
Watch CNN explore the topic of Clinton's campaigning for Obama below via CNN:
Have a tip we should know? tips@mediaite.com