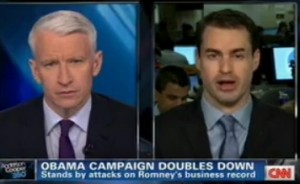 The Obama campaign spent the better part of the day of attempting to recover from Newark Mayor Cory Booker's near-scuttling of a major component of their reelection effort, Mitt Romney's record at Bain Capital, coming very close with President Obama's strong double-down at a press conference this afternoon. Then, Obama campaign spokesman Ben LaBolt took to Anderson Cooper 360 to undo as much of that as he could.
Mayor Booker made waves Sunday when he criticized President Obama's campaign over an ad attacking Mitt Romney's tenure at Bain Capital, then quickly walked those comments back in a YouTube video. The Romney campaign pounced, and President Obama's campaign spent much of the day trying to get the narrative back.
They nearly did the trick, using their most effective weapon: President Obama himself. At a press conference this afternoon, the President managed to completely reframe the story, explaining that while private equity investment has its place in our economy, an American president needs to have a broader focus than simply maximizing near-term profits for investors. More importantly, he changed the headline to "Obama Doubles Down."
One criticism of the Bain attack has been the notion that it's hypocritical for the President to attack Mitt Romney's record at Bain Capital, yet raise money from private equity donors like Blackstone Group president Tony James, and top Obama bundler Jonathan Lavine, currently a managing director at Bain. It's an obvious line of attack that's been kicking around for a week now, and was the subject of Anderson Cooper's first question to Obama campaign spokesman Ben LaBolt on tonight's AC360.
"How can President Obama attack Mitt Romney on his time at Bain, highlighting only times when Bain cost companies jobs, and at the same time hold high priced fund raisers with the head of another private equity firm that's done work with Bain, the Blackstone Group, there are people who have worked at other private equity firms in his own administration?"
LaBolt started off right, explaining the pertinent point that Mitt Romney himself has bragged about job creation as a "corporate takeover specialist" at Bain Capital, when job creation is about as central to private equity as fertilizer creation is to dairy farming.
But even as Cooper tried to get him to answer the hypocrisy question, LaBolt plowed right through him with more talking points. Five or six times, Cooper tried to get LaBolt to answer that one question, only to be met with uninterrupted talking points, or naked subject changes.
The rest of the interview went on along the same lines. Asked if he agreed with Mayor Booker that Bain had "done a lot to grow businesses," LaBolt responded, "You know what Mayor Booker also said?"
The answer to the hypocrisy question is really quite simple. How can the President accept donations from private equity donors, while attacking Mitt Romney's record at Bain Capital?
"Those private equity donors don't want to be president, they want Barack Obama to be President, they recognize that their own narrow interests aren't necessarily the same as the country's."
There, done. Or if you don't like that answer, fine, but have an answer! Tell him "The difference is, our donors are silver foxes like you, Anderson."
Now, LaBolt's performance was no worse than dozens I've seen from other campaigns, and one appearance by one spokesman on AC360 isn't going to ruin all of the Obama campaign's work, but it does illustrate a possible weakness for them going forward.
The general election is still in its infancy, but this is a stark contrast from 2008. The campaign had problems with surrogates then, as well, but they had an incredibly deep bench of spokespeople who were not just studied, but knowledgeable. Some of them are working outside the campaign now, like Bill Burton, or keeping a low profile, like Robert Gibbs, and many of them have remained in the White House.
They all knew the talking points, for sure, but they also knew the gears and servos, the guts of those talking points, they knew the policies inside and out, and they knew their opponents back, forth, and sideways. I can't imagine any of them being caught this flat-footed by such an obvious question. Maybe there's a bit of a Rocky III effect happening here, and the Obama campaign needs to get some of that Eye of the Tiger back.
Here's the clip, from AC360:
Have a tip we should know? tips@mediaite.com