Obama Campaign Spokesperson: Libya Is Only A Political Topic 'Because Of Mitt Romney And Paul Ryan'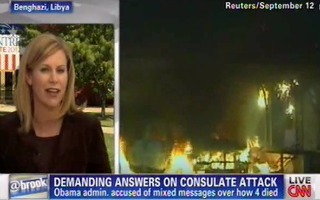 Appearing on CNN on Thursday, Stephanie Cutter, Obama campaign deputy communications director, was asked about the political implications of the unfolding scandal surrounding the White House's response to the attacks in Benghazi in September. Cutter blamed the media and the Congress' focus on the Benghazi attacks, which resulted in the death of an American ambassador, on the Republican party's presidential ticket – Mitt Romney and Paul Ryan. "The entire reason that this has become the political topic it is because of Mitt Romney and Paul Ryan," Cutter said.

CNN anchor Brooke Baldwin asked Cutter how the Obama administration could explain the "political circus" surrounding the White House's response to the 9/11/12 attacks in Benghazi.
"The administration has been open and honest from day one about the Benghazi attack," said Cutter. "As more information has become available, they've made that information available to the American people."
Cutter said that the issue has become a political football for the Mitt Romney's presidential campaign.
"We're here in Kentucky – at the site of the vice presidential debate – and we're anxious for this actually to come up tonight," said Cutter. "Paul Ryan has politicized and made it a political circus all over this country of the terrible tragedy that happened in Libya. And the one thing that he's not doing is saying exactly what he would do differently."
After playing a montage of clips of members of the Obama administration saying that the attack was caused by an offensive video, Cutter accused the Republican presidential ticket of inflating the issue of Benghazi for political purposes.
"The entire reason that this has become the political topic it is because of Mitt Romney and Paul Ryan," Cutter said. "It's' become a part of their stump speech, and it is reckless and irresponsible what they are doing."
UPDATE: Stephanie Cutter took to her twitter account to reinforce her statement to CNN that Romney politicized the Libya attack by criticizing Obama before he had all the facts: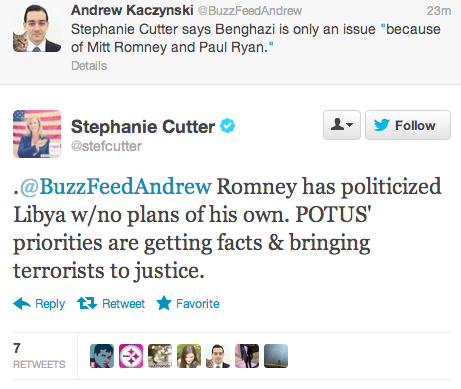 Watch the clip below via CNN:
> >Follow Noah Rothman (@Noah_C_Rothman) on Twitter
Have a tip we should know? tips@mediaite.com