Obama Challenges Health Care Critics to Offer Specific Alternatives, Because 'We're Not Going Back'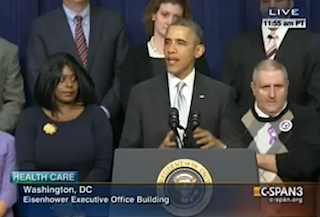 President Barack Obama presented a robust defense of his Affordable Care Act during an event at the White House Tuesday that also featured several Americans who have benefited from the law's implementation. Two days after his administration's self-imposed deadline to get the HealthCare.gov website functioning properly, the president hailed the fixes as a success and told his political opponents "we're not going back" to the old health care system.
After recounting the stories of people who have sent him letters thanking him for enacting various aspects of the health care law, President Obama said, "My main message today is we're not going back." He said that the "only alternative" he's heard from critics of Obamacare has been "let's just go back to the status quo" by repealing the law.
"I've always said, I will work with anybody to implement and improve this law effectively," Obama continued. "You've got good ideas, bring them to me. Let's go. But we're not repealing it as long as I'm president."
"If you don't like this law," he said to applause, "in spite of all the people benefiting from it, you still think this law is a bad idea, you've got to tell us what you'd do specifically to cut costs, cover more people, make insurance more secure. You can't say the system was working with 41 million people without health insurance."
Noting that the Affordable Care Act's exchanges are "just getting started," Obama insisted, "We're not going to walk away from it. If I have to fight another three years to make sure the law works, that's what I'll do. That's what we'll do."
In an appeal to young and other healthy Americans who don't believe the law is helping them, the president offered a warning of sorts. "Maybe it won't make a difference right now if you're feeling healthy. But I promise you, if somebody in your family, heaven forbid, gets sick, you'll see the difference."
Watch video below, via C-SPAN 3:
[photo via screengrab]
— —
>> Follow Matt Wilstein (@TheMattWilstein) on Twitter
Have a tip we should know? [email protected]