Obama Chides Media Over Budget Debate: 'Let's Face It, You Guys Are Impatient'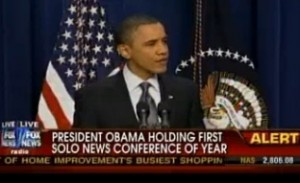 During President Obama's press conference today in which he addressed yesterday's federal budget presentation, the tone turned a tad contentious between the President and reporters in attendance. The normally cool and calm Obama seemed frustrated with the suggestion made by NBC News' Chuck Todd that the administration was ignoring recent bipartisan goodwill to effectively cut deficit spending. Obama bristled "If something doesn't happen today, the assumption is that it isn't going to happen."
Obama set the tone of hte event by opening his press conference by making a statement on the Federal budget (transcript via National Journal)
"Before I take a few questions, let me say a few words about the budget that we put out yesterday. Just like every family in America, the federal government has to do two things at once. It has to live within its means while still investing in the future. If you're a family trying to cut back, you might skip going out to dinner. You might put off a vacation, but you wouldn't want to sacrifice saving for your kids' college education or making key repairs in your house. So you cut back on what you can afford to focus on what you can't do without. That's what we've done with this year's budget.
After taking several questions about the budget (and his oft stated desire to use a "scalpel versus a machete") as somewhat exasperated Todd seemed to basically call bullpucky on what seemed like inconsistencies in the presidents rhetoric (if not policy.) Todd asked:
Everything you've talked about: tax reform, the entitlement reform, two parties coming together, just happened in December in your fiscal commission. You had a majority consensus to do all this. Its all been shelved. I guess my question is, what was the point of the fiscal commission if you have this moment, where you have Tom Coburn, your conservative friend in the United States Senate sign on to this deal. Judd Gregg was also on this deal. You had Dick Durbin your good friend from Illinois…everything you just described in the answer to Chip and the answer to Ben just happened…why not grab that?
A frustrated Obama somewhat lashed back, saying:
The notion that it's been shelved I think is incorrect. It still provides a framework for a conversation. Part of the challenge is here is that this town let's face it, you guys are pretty impatient. If something doesn't happen today, the assumption is that it isn't going to happen. I've had this conversation for the last two years about every issue… whether it was on health care, Don't Ask, Don't Tell, on Egypt. — we have had this monumental change your last three weeks. Why did it take three weeks?
Watch the video courtesy of Fox News below:
Have a tip we should know? tips@mediaite.com
Colby Hall - Founding Editor