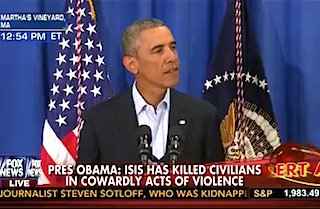 Speaking from his vacation on Martha's Vineyard Wednesday afternoon, President Barack Obama delivered a strongly-worded condemnation of everything the terrorist group ISIS (or ISIL in his words) stands for following the brutal execution of U.S. journalist James Wright Foley.
The president said Foley's "life stands in stark contrast to his killers," before denouncing ISIS' "cowardly acts of violence" in both Syria and now Iraq. "They have murdered Muslims both Sunni and Shi'a by the thousands, they target Christians and religious minorities," he said, "driving them from their home, murdering them when they can, for no other reason than then they practice a different religion. They declare their ambitions to commit genocide against an ancient people."
He compared the jihadist group to a "cancer" that must be contained.
"So ISIL speaks for no religion, their victims are overwhelmingly Muslims, and no faith teaches people to massacre innocents. No just God would stand for what they did yesterday and what they do every single day," Obama continued. "ISIL has no ideology with any value to human beings. Their ideology is bankrupt."
"The United States of America will continue to do what we must do to protect our people," the president said later. "We will be vigilant and we will be relentless. When people harm Americans anywhere, we do what is necessary to see that justice is done."
President Obama identified the one thing that "we can all agree on": that ISIS "has no place in the 21st century."
Watch video below, via Fox News:
[Photo via screengrab]
— —
>> Follow Matt Wilstein (@TheMattWilstein) on Twitter
Have a tip we should know? tips@mediaite.com