Obama Defends Colin Kaepernick to Military Audience: 'That's What Freedom Means in This Country'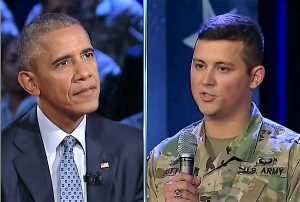 As we observe the pitched battle for the White House, its current occupant continues to push for a more inclusive, compassionate culture, as he did during a town hall event hosted by CNN's Jake Tapper Wednesday night. President Obama was asked to weigh in on the protest movement started by NFL quarterback Colin Kaepernick, and which has been picked up by other athletes.
First Lieutenant James Sutter asked the President how he felt about NFL players kneeling in protest during the "typically respected time" that the national anthem is sung. The President eloquently stood up for the rights of citizens to express themselves, while also asking that the feelings of soldiers and their loved ones also be considered:
FIRST LIEUTENANT JAMES SUTTER: Mr. President, we honor those who have given deep meaning to the phrase, home of the brave, by making the ultimate sacrifice for the land of the free. Lately, some players in the NFL have been choosing to take a knee during the national anthem, a time which I believe should be reserved to respect our service members. As commander-in-chief, how do you feel about those NFL players choosing this typically respected time to voice their opinions?

OBAMA: Well, as I've said before, I believe that us honoring our flag and our anthem is part of what binds us together as a nation. And I think that for me, for my family, for those who work in the White House, we recognize what it means to us, but also what it means to the men and women who are fighting on our behalf. But I'm also always trying to remind folks that part of what makes this country special is that we respect people's rights to have a different opinion and to make different decisions about how they want to express their concerns. And the test of our fidelity to our constitution, the freedom of speech, to our bill of rights, is not when it's easy, but when it's hard.

We fight sometimes so that people can do things that we disagree with. But that's what freedom means in this country. And so my hope would be that as this debate surfaces, we're always reminding ourselves that in a democracy like ours, there are going to be a lot of folks who do stuff that we just don't agree with. But as long as they're doing it within the law, then we can voice our opinion objecting to it, but it's also their right.

And I think that it's also important for us to recognize that sometimes out of these controversies, we start getting into a conversation, and I want everybody to listen to each other. So I want Mr. Kaepernick and others who are on a knee, I want them to listen to the pain that that may cause somebody who, for example, had a spouse or a child who was killed in combat, and why it hurts them to see somebody not standing. But I also want people to think about the pain that he may be expressing about somebody who's lost a loved one that they think was unfairly shot.

And one of the things that I always say about American democracy is, it can be frustrating, but it's the best system we've got. The only way that we make it work is to see each other, listen to each other, try to be respectful of each other, not just go into separate corners, and I do hope that anybody who's trying to express any political view of any sort understands that they do so under the blanket of protection of our men and women in uniform, and that that appreciation of that sacrifice is never lost.
President Obama has, of course, spoken on the subject before, but the sensitivity and firmness he showed in this setting, in front of an audience of military members and families, was remarkable.
Have a tip we should know? tips@mediaite.com