Obama Defends DOJ In AP Scandal: 'Leaks Related To National Security Can Put People At Risk'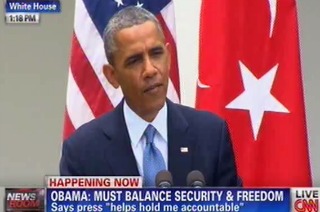 During a press conference in the Rose Garden of the White House on Thursday, President Barack Obama addressed the controversy surrounding the Department of Justice's obtainment of two months of phone records from the Associated Press. Obama said that it is his responsibility to keep the public safe and, thought the details of the case were not yet fully known, the AP may have comprised national security by publishing sensitive information.

The president dismissed comparisons being made between his administration that that of President Richard Nixon. "I'll let you guys engage in those comparisons," Obama said. "My concern making sure that, if there's a problem in the government, that we fix it."
Obama said that this was true of the IRS scandal and the concerns Republicans have expressed about the Benghazi attack, "which is why we're going to need to work with Congress to make sure that there's adequate funding for what's necessary out there."
RELATED: 'Is Anybody Home'? CBS' Bob Schieffer Goes After Admin For Pleading Ignorance About Benghazi, IRS, AP
Obama said he would not comment on the case that required the Justice Department to seize AP's phone records. "Leaks related to national security can put people at risk," the president noted. "They can put some of our intelligence officers, who are in various dangerous situations that are easily compromised, at risk."
"The flip side is, we also live in a democracy where a free press, free expression, and the open flow of information helps hold me accountable, helps hold our government accountable, and helps our democracy function," Obama added. "The whole reason I got involved in politics is because I believe so deeply in that democracy and that process."
Obama said that "we still don't know all the details of" the case that required the DoJ to seize AP's phone records. However, he welcomed the debate over renewed media protection laws that has resulted from that action.
Watch the clip below via CNN:
> >Follow Noah Rothman (@NoahCRothman) on Twitter
Have a tip we should know? [email protected]