Obama Defends His Campaign's Calls For Romney's Taxes: The President's 'Life Is An Open Book'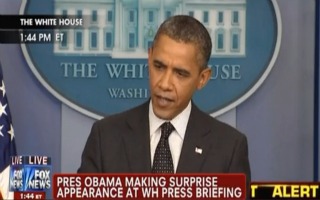 During a press conference on Monday with the White House press corps, President Barack Obama addressed a question relating to his campaign's request for Republican presidential candidate Mitt Romney to release at least five more years of past tax returns. Obama said that they are not asking for anything exceptional and that Romney should be prepared to disclose more financial information to voters. "I don't' think we're being mean by asking you to do what every other presidential candida has done," said Obama. "It's what the American people expect."

RELATED: President Obama Weighs In On Akin Comments: 'Rape Is Rape'
President Obama took a question from NBC News' Chuck Todd who asked whether he thinks that there is something hidden in Mitt Romney's tax returns which could be potentially damaging to his candidacy.
"There is a difference between playing by the same sets of rules and doing something illegal, and in no way have we suggested the latter," said Obama.
Obama went on to illustrate this point by saying that the returns that Romney has so far disclosed indicate that he made use of a Swiss bank account. "Well, that may be perfectly legal but I suspect that if you asked the average America, 'do you have one?' 'Is that part of how you manage your tax returns?' They would say 'no,'" said the President.
Obama said that he thinks that, as well as other details of Romney's personal finances, are relevant information for voters.
"I think the idea that this is somehow exceptional – that there should be a rationale or a justification for doing more than the very bare minimum – has it backwards," Obama continued. He said that voters expect Romney to release as many returns as past candidates have, including his own father.
"The American people have assumed that, if you want to be President of the United States, that your life is an open book when it comes to things like your finances," said Obama.
Obama said he is not asking Romney to reveal every detail of his personal life, like his medical records. "Although, we normally do that as well," said Obama.
Watch Obama's statement below via Fox News Channel:
> >Follow Noah Rothman (@Noah_C_Rothman) on Twitter
Have a tip we should know? tips@mediaite.com