Obama Delivers a Fiery DNC Speech: 'Our Greatness Does Not Depend on Donald Trump!'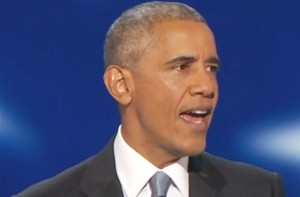 President Obama closed things out at the Democratic National Convention tonight with a rousing speech pushing hard for Hillary Clinton and calling on the United States to reject Trumpsim.
"This is not your typical election," he said. "It's not just a choice between parties or policies; the usual debates between left and right. This is a more fundamental choice––about who we are as a people, and whether we stay true to this great American experiment in self-government."
Obama declared that last week's Republican National Convention "wasn't particularly Republican" or conservative, but instead "a deeply pessimistic vision of a country where we turn against each other, and turn away from the rest of the world." He presented a more optimistic message of unity in the wake of Americans' anxieties and recent tragedies.
He proceeded to praise Clinton and reflected on 2008, saying, "Let me tell you, it was tough, because Hillary's tough… Every time I thought I might have that race won, Hillary just came back stronger." Obama went through her extensive resumé and said it's easy to say what you would do if you were president, but "Hillary's been in the room; she's been part of those decisions."
Finally, he got around to Trump:
"The Donald's not really a plans guy. He's really a facts guy, either. He calls himself a business guy, which is true, but I have to say, I know plenty of businessmen and women who've achieved success without leaving a trail of lawsuits, and unpaid workers, and people feeling like they got cheated. Does anyone really believe that a guy who's spent his 70 years on this Earth showing no regard for working people is suddenly going to be your champion?"
He kept going after Trump by saying, "He cozies up to Putin, praises Saddam Hussein, [and] tells our NATO allies that stood by our side after 9/11 that they have to pay up if they want our protection."
"America is already great," Obama declared. "America is already strong. And I promise you, our strength, our greatness, does not depend on Donald Trump."
And he wasn't even done there:
"He's just offering slogans, and he's offering fear. He's betting that if he scares enough people, he might score just enough votes to win this election. That is another bet that Donald Trump will lose… Our power doesn't come from some self-declared savior promising that he alone can restore order. We don't look to be ruled!"
The president even touched on police shootings and spoke of how the worry of black parents "isn't so different" from the worry of police families every single day.
He even gave a shoutout to Bernie Sanders and his supporters before defending Clinton with this strong statement:
"Look, Hillary's got her share of critics. She's been caricatured by the right and by some folks on the left; accused of everything you can imagine – and some things you cannot. But she knows that's what happens when you're under a microscope for 40 years. She knows she's made mistakes, just like I have, just like we all do. That's what happens when we try."
(An anti-TPP protester spoke up as Obama spoke that first sentence.)
Obama got emotional as he reflected on the values his grandparents taught him and "what makes us American."
The president acknowledged he's "fallen short" and hasn't done everything he's set out to do, but said he has confidence "that the Democratic Party is in good hands" and said that ever day, he remains inspired by the passion and energy he has seen from young people rejecting "cynicism" and fear in the name of public service.
Oh, and jump to cap things off, but Hillary Clinton herself made a surprise appearance on stage at the very end.
Watch above, via CNN.
[image via screengrab]
— —
Follow Josh Feldman on Twitter: @feldmaniac
Have a tip we should know? tips@mediaite.com
Josh Feldman - Senior Editor