Obama Deputy Campaign Manager: 'I Think Allies To Mitt Romney' Are Responsible For Releasing 2007 Tape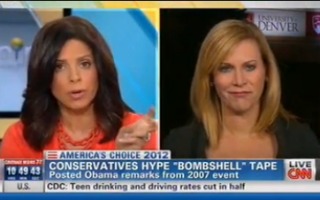 Obama deputy campaign manager Stephanie Cutter appeared on Starting Point Wednesday morning, where she was asked to respond to yesterday's release of a 2007 video showing then-candidate Barack Obama discussing the Stafford Act and the response to Hurricane Katrina.
The Romney campaign, as host Soledad O'Brien noted, recently released a statement saying it is not involved in distributing the video. Cutter responded, pointing out the people she thinks are responsible:
Well, I think allies to Mitt Romney are responsible and I think that the Romney campaign should stand up and do the right thing and say that it was irresponsible to do something like that, particularly on the eve of the debate.

And it was so transparent, what they were trying to do. Mitt Romney has been taking heat for weeks now for his secret comments behind closed doors with his wealthy donors that he didn't care about half of this country. Their answer to that is to put out an already publicly-released speech that the President gave five years ago where he was talking about the reaction to Hurricane Katrina and the inadequate reaction to Hurricane Katrina. You know what, it's an interesting strategy by Mitt Romney and his allies that they actually want to defend the Bush administration response.
When O'Brien pointed out that it sounded as if Cutter was holding Romney responsible for the tape's re-release, Cutter insisted that she thought it was allies to the campaign that were responsible, not Romney or the campaign itself.
Watch, via CNN:
Have a tip we should know? tips@mediaite.com