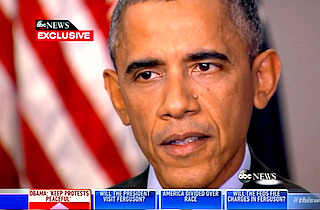 President Barack Obama addressed the simmering tension in Ferguson during his interview Sunday morning with ABC News' George Stephanopoulos, calling for the protests to remain peaceful ahead of the Grand Jury decision on Officer Darren Wilson, and praising the progress of race relations even in the face of a quote from civil rights hero John Lewis predicting a "miscarriage of justice" in Ferguson that will galvanize protests similar to those in Selma, Alabama.
"You know, I love John, I didn't see the quote, so I don't want to comment on what John specifically said," Obama said. "But I will say this – that the kinds of ongoing problems we have with police and communities of color around the country are not of the sort that we saw in Selma. We're not talking about systematic segregation or discrimination. They are solvable problems if in fact law enforcement officials are open to the kind of training and best practices that we've seen instituted in lot of parts of the country."
Selma was the setting of a pivotal civil rights march in 1965, and also of brutal police violence against African Americans.
"What I have confidence in is that if we do a better job of training our law enforcement to be sensitive to the concerns of minority communities…so they can distinguish between a gangbanger and a kid who just happens to be wearing a hoodie but just otherwise is a good kid and not doing anything wrong," Obama said.
The president disputed the notion that race relations had gotten worse in recent years, saying the ability to videotape and instantly upload clashes between police and minorities had heightened awareness of the friction, sometimes for the better.
"I think that folks on the other side of it might not understand why there are concerns or mistrust," Obama said. "Not because they're in denial, just they haven't experienced it. And so when people start seeing these instances, then they start saying 'okay, maybe we understand what we're talking about.'"
Watch the clip below, via ABC News:
[Image via screengrab]
——
>> Follow Evan McMurry (@evanmcmurry) on Twitter
Have a tip we should know? tips@mediaite.com