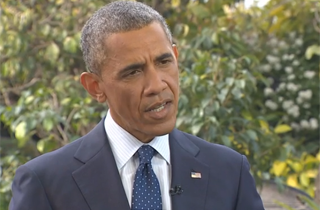 During an interview with Fareed Zakaria, Barack Obama covered a lot of questions, but got asked a rather awkward one: why is America still tight with Saudi Arabia, given their history on human rights? And why is he going to the country during his world tour, considering their recent punishment of a dissident blogger?
"Well, what we'd say to them is that it is important for us to take into account existing relationships, the existing alignments within a very complicated Middle East," he said, mentioning their common interests in fighting terrorists.
But, Zakaria pushed, what about Raif Badawi, a Saudi blogger sentenced to 1000 lashes for criticizing the government? (His punishment, doled out 50 lashes at a time, is so severe that doctors warned that any more lashings would kill him.)
"I think on this visit, obviously, a lot of this is just paying respects to King Abdullah, who, in his own fashion, represented some modest reform efforts within the kingdom," Obama began, referring to the recent death of the 90-year-old monarch.
Obama continued:
What I've found effective is to apply steady, consistent pressure, even as we are getting business done that needs to get done. And oftentimes that makes some of our allies uncomfortable. It makes them frustrated. Sometimes we have to balance our need to speak to them about human rights issues with immediate concerns that we have in terms of countering terrorism or dealing with regional stability.
Welp, he either ducked the question, or adhered to a realist philosophy of international relations, your call.
The full interview will air on CNN's Fareed Zakaria GPS on Sunday. Watch a preview below via CNN:
[h/t CNN]
[Image via screenshot]
—
>> Follow Tina Nguyen (@Tina_Nguyen) on Twitter
Have a tip we should know? tips@mediaite.com