Obama Exasperated: Building Highways Is Not 'Socialism' or 'Imperial Presidency'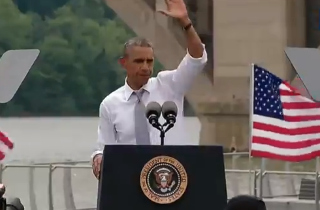 There might be another federal budgetary crisis looming in the immediate future, and it may affect whether our highway system will get its repairs or not. And, as per usual, it's causing actual, literal partisan gridlock — gridlock that President Barack Obama really, really loathes right now.
In a Tuesday speech in front of the Key Bridge in Washington, D.C., Obama wondered why on earth Republicans would want to block his proposal to make up a budget shortfall in the Highway Trust Fund (responsible for maintaining highways and roads) by increasing taxes on gas companies.
"It's not crazy. It's not socialism. It's not the imperial presidency," he said with clear exasperation. "We're just building roads and bridges, like we have for the past 50 years, 100 years."
The speech coincides with a letter from the Department of Transportation released today, in which Secretary Anthony Foxx warned Congress that, should they not act before August 1st, the shortfall in funding would mean that reimbursements to states for highway construction projects would be delayed. While gas taxes have been financing the Highway Trust Fund for decades, they have not been raised in that time — meaning that the Fund is severely inadequate.
Knowing that the Republicans find the concept of raising taxes repugnant, Obama placed the blame on their shoulders. "It's not like they've been busy with other stuff!" he joked, then paused. "No, seriously."
Watch below, via The White House:
[h/t Business Insider]
[Image via screenshot]
—
>> Follow Tina Nguyen (@Tina_Nguyen) on Twitter
Have a tip we should know? [email protected]