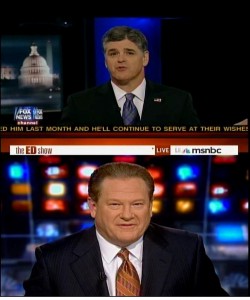 With a deal reached between President Obama and Republicans to extend all of the Bush tax cuts for two years and to also extend unemployment insurance, generally speaking, liberals are furious and conservatives are giddy.  This reaction was predictably demonstrated by each side's arguably most strident cable news spokesmen Sean Hannity and Ed Schultz.  Apparently compromise in today's partisan universe is a new synonym for weakness.

On Hannity, guest Dick Morris summarized the tax deal as Obama caving in and surrendering.  Morris went on to salivate at the possibility that tonight was the night that the momentum for a Democratic primary against Obama could begin.  And Hannity clearly enjoyed the fact that liberals were angry with the President's actions.
Meanwhile over on the Ed Show, Schultz proved liberals were furious by declaring his belief that with this compromise the rich would get richer and the poor would work harder and stay poor.  "The Republicans have backed President Obama, I think, right into the corner again.  If he compromises with the very people who have been on a mission to destroy his agenda, to destroy his presidency, this country, in my opinion, will never get out of the financial ditch we are in."
Schulz and Hannity seem to agree that Obama comes out the loser in this situation and it's hard to argue.  Especially since Obama's demeanor during the announcement gave off the impression he was compromising only because he did not have the energy to engage in a political fight and since with only a two year extension, this means the issue of potentially raising taxes on the wealthy will have to be revisited during Obama's 2012 re-election campaign.  However, it certainly is troubling that bi-partisan cooperation is ridiculed by both sides and makes one wonder where are the centrist voices to give Obama some kudos to lift his clearly floundering spirits.
Watch the clips below from Fox's Hannity and MSNBC's Ed Show:
Have a tip we should know? tips@mediaite.com