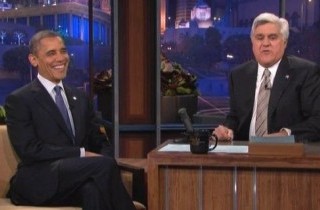 President Barack Obama appeared Wednesday night on the Tonight Show with Jay Leno, condemning GOP Senate candidate Richard Mourdock's controversial comments about rape and mocking Donald Trump pledge to donate $5 million to the charity of the president's choosing.
During the wide-ranging conversation, Obama also discussed: the stresses of traveling for the campaign; the presidential and vice-presidential debates; his plans for addressing the federal deficit; the controversial voter identification laws; his accomplishments over the last four years; and the European financial crisis.
"I could not have a better vice president than Joe Biden," the president said after praising his VP's debate performance and reliability as a governing partner.
The president then mocked Trump for his Wednesday afternoon pledge to donate $5 million to the president's selected charity in exchange for his college records and passport application. "This all goes back to when we grew up together in Kenya," the president joked.
"We had constant run-ins on the soccer field," he continued. "He wasn't very good and resented it. When we finally moved to America I thought it would be over."
When the focus turned to Senate candidate Mourdock's controversial comments that pregnancies resulting even from rape are "something that God intended to happen," the president remarked:
"I don't know how these guys come up with these ideas. Let me make a very simple proposition: rape is rape. It is a crime. These various distinctions about rape don't make any sense to me. This is exactly why you don't want a bunch of politicians, mostly male, make decisions about women's heath issues."
Watch below, via NBC:
— —
>> Follow Andrew Kirell (@AndrewKirell) on Twitter
Have a tip we should know? tips@mediaite.com