Obama Goes on Massive Tear Against Trump's Conspiracy Theories, GOP's Unconditional Submission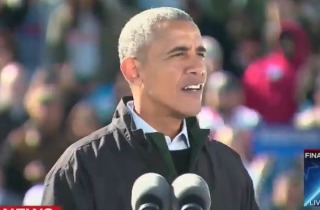 President Obama is campaigning on Hillary Clinton's behalf today, and he spent a great deal of time raking Donald Trump's antics over the coals.
Obama went on a major tear against the mogul yesterday, when he also scolded conservatives for passively allowing Trump to rise before running away from him over his most recent troubles. Today in Cleveland, Obama mocked Trump by saying that Clinton is crafting her plans for America's future, while the mogul is too busy defending controversies, getting in civil wars with his party and threatening lawsuits against media outlets.
As the bashing continued, Obama turned to Trump's Thursday remarks where he blamed his recent problems on a conspiracy perpetuated by the media, the banks, and the global elites driving the "Clinton machine."
"This is a guy who spent all his time hanging around trying to convince everybody he was a global elite, talking about how great his buildings are, how luxurious and how rich he is and flying around everywhere. All he had time for was celebrities and now suddenly he's acting like he's a populist out there. Man, 'I'm going to fight for working people.' Come on, man."
Obama went on to say that Trump's antics are reflected in tyrannical governments that represent the antithesis of American values. To this point, Obama remarked that he was "disturbed" by the extent to which Republican officials tolerated Trump.
"I said that in part what's happened here is over the last eight years. Republican officials who know better, some of whom I talk to, they're sane people, they're normal folks. But what they've done is they've allowed a lot of crazy talk to just be pumped out again and again through all kinds of these media outlets..Trump didn't build all this crazy conspiracy stuff. Republicans who knew better stood by silently, and even during the course of this campaign, didn't say anything. I know that some of them now are walking away, but why did it take you this long?"
Watch above, via CNN.
[Image via screengrab]
— —
>> Follow Ken Meyer (@KenMeyer91) on Twitter
Have a tip we should know? tips@mediaite.com