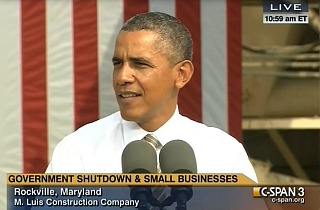 Speaking to a group of supporters at an event in Rockville, Maryland, on Thursday, President Barack Obama admonished Republicans in Congress for forcing a government shutdown over the Affordable Care Act. He said that Republicans sought the shutdown and now they have no idea how to get out of it. The president insisted that the shutdown was "exactly what they wanted."

Obama began by insisting that House Speaker John Boehner (R-OH) can, and should, simply put a clean continuing resolution to the floor for a vote where it would pass and end the shutdown.
"The only thing that is keeping the government shut down," Obama said, "is that Speaker John Boehner won't even let the bill get a yes or no vote. Because he doesn't want to anger the extremists in his party."
RELATED: Parks, Vaccines, Pandas, and Mars: Mediaite's Guide to the Shutdown
"That way the American people will be clear about who is responsible for the shutdown," the president continued.
The president quoted some Republicans who have told the press that the strategy Republicans have embraced has been unfocused.
"One House Republican said, 'We are not going to be disrespected. We have to get something out of this and I don't know what that even is.'" Obama said. "That was a quote."
Obama said that what Republicans get by ending the shutdown is the resumption of normal federal operations. "Take a vote. Stop this farce, and end this shutdown right now," the president insisted.
Watch the clip below via C-SPAN 3:
[Photo via screen grab ]
— —
> >Follow Noah Rothman (@NoahCRothman) on Twitter
Have a tip we should know? tips@mediaite.com