Obama: GOP 'Will Not Collect A Ransom In Exchange For Not Crashing The American Economy'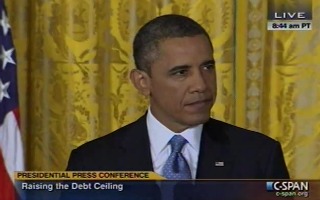 During a press conference in the White House on Monday, President Barack Obama warned Congressional Republicans not to hold the debt ceiling limit hostage in order to secure concessions on spending cuts from the White House. He spelled out what not increasing the debt limit would mean, and said clearly that the GOP in Congress "will not collect a ransom" from the president by holding the debt ceiling hostage.

RELATED: NY Times Buries The Lede: Anderson Cooper's Ratings Surge At 8PM
"If Congressional Republicans refused to pay America's bills on time, Social Security checks and veterans' benefits will be delayed," Obama said. "We might not be able to pay our troops or honor our contracts with small business owners. Food inspectors, air traffic controllers, specialists who track down loose nuclear materials wouldn't get their paychecks."
Obama continued to add on to the litany of issues that not increasing the debt ceiling limit would mean to the economy, saying that markets would react negatively and interest rates on all loans would spike.
"It would slow down our growth, might tip us into recession and, ironically, would probably increase our deficit," Obama added.
"We've got to pay our bills," Obama added. "Republicans in Congress have two choices here: they can act responsibly and pay America's bills, or they can act irresponsibly and put America through another economic crisis."
"They will not collect a ransom in exchange for not crashing the American economy," Obama concluded. "The financial wellbeing of the American people is not leverage to be used. The full faith and credit of the United States of America is not a bargaining chip."
Watch the clip below via C-SPAN:
> >Follow Noah Rothman (@Noah_C_Rothman) on Twitter
Have a tip we should know? tips@mediaite.com