Obama Hits GOP Refusal To Negotiate On Fiscal Cliff In Wide-Ranging Meet The Press Interview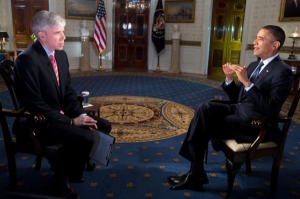 In the absence of fiscal cliff deal, President Obama sat down with David Gregory in a wide-ranging interview that aired on Meet the Press this Sunday. Hitting Republicans for their unwillingness to negotiate, Obama noted that he has made concession that have angered his own party — and urged Congress to act.
Asked whether we'll go over the fiscal cliff, Obama said, "We're going to find out in the next 48 hours what Congress decides to do."
"We have been talking to the Republicans ever since the election was over," he said. "They have had trouble saying yes to a number of repeated offers."
There's "basic fairness at stake," he added — going on to note that "the offers that I've made to them have been so fair that a lot of Democrats get mad at me." Speaking about Medicare and Social Security, the president said he's willing to everything he can to ensure those programs are intact for future generations. But the GOP is behaving as if "their only priority is making sure that tax breaks for wealthy are protected."
Looking forward to his second term, Obama said his biggest priorities are immigration, growing the economy, energy, and preventing tax hikes on the middle class. He also said gun legislation "is not something I will be putting off." Alluding to the Newtown massacre, Obama said, "That was the worst day of my presidency. And it's not something that I want to see repeated."
Elsewhere in the interview, the president also spoke about the attack in Benghazi, calling it "a huge problem," but noting that the U.S. has some "very good leads" about who carried out the attacks.
Watch the interview below, via NBC.
Have a tip we should know? tips@mediaite.com