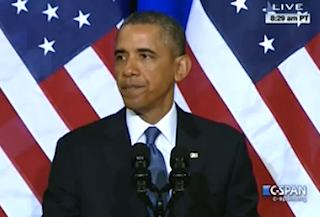 Edward Snowden's NSA leaks may have been directly responsible for the "reforms" President Barack Obama announced today to U.S. surveillance programs, but he received only a brief mention during the president's speech. Obama said he did not want to "dwell" on the Snowden case because it is still an "open investigation," but did speak generally about why he believes the leaks hurt the country.
After discussing a speech he made last May at the National Defense University about the balance between security and liberty, Obama added, "Of course, what I did not know at the time is that within weeks of my speech an avalanche of unauthorized disclosures would spark controversies at home and abroad that have continued to this day."
Obama then delivered this short statement on Snowden's actions:
"I'm not going to dwell on Mr. Snowden's actions or his motivations. I will say that our nation's defense depends in part on the fidelity of those entrusted with our nation's secrets. If any individual who objects to government policy can take it into their own hands to publicly disclose classified information, then we will not be able to keep our people safe, or conduct foreign policy."

"Moreover, the sensational way in which these disclosures have come out has often shed more heat than light, while revealing methods to our adversaries that could impact our operations in ways that we may not fully understand for years to come."
He then moved on to the larger issues that most likely he would not be discussing publicly had Snowden not exposed the extent of the NSA surveillance programs to the world.
Watch video below, via C-SPAN:
[photo via screengrab]
— —
>> Follow Matt Wilstein (@TheMattWilstein) on Twitter
Have a tip we should know? tips@mediaite.com