Obama Invokes Ferguson at U.N.: 'We Have Our Own Racial and Ethnic Tensions'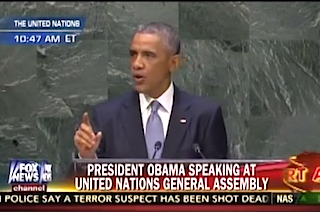 During his speech to the United Nations General Assembly Wednesday morning, President Barack Obama made the unusual move of acknowledging the accusations of hypocrisy that have come or were likely to come from foreign leaders about the United States. While the U.S. is trying to fix "racial and ethnic tensions" on the other side of the world, the president used Ferguson, Missouri as proof that we have our own problems to deal with in that area as well.
"I realize that America's critics will be quick to point out that at times we too have failed to live up to our ideals, that America has plenty of problems within its own borders." Obama said. "This is true."
"In a summer marked by instability in the Middle East and Eastern Europe, I know the world also took notice of the small American city of Ferguson, Missouri, where a young man was killed and a community was divided," Obama continued, referencing the massive protests and military-style police action that followed the shooting of unarmed teenager Michael Brown by a police officer there.
"So, yes, we have our own racial and ethnic tensions," Obama said. "And like every country we continue to wrestle with how to reconcile the vast changes wrought by globalization and greater diversity with the traditions that we hold dear."
"But we welcome the scrutiny of the world," he added.
One piece of scrutiny over the unrest in Ferguson this summer came from none other than North Korea, whose state news agency said the events made the United States "the laughing stock of the world."
Watch video below, via Fox News:
[Photo via screengrab]
— —
>> Follow Matt Wilstein (@TheMattWilstein) on Twitter
Have a tip we should know? tips@mediaite.com