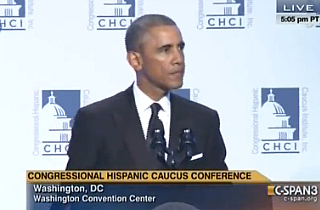 As it turns out, President Obama mentioned Fox News not once, but twice during Thursday's series of presidential speeches.
Hours after mocking Fox News for turning the Affordable Care Act into a "fanged threat" to freedom (provoking Greta Van Susteren's wrath in the process), the president invoked Fox host Sean Hannity in support of his push for immigration reform.

Speaking before the Congressional Hispanic Caucus Institute's annual gala in Washington, D.C., President Obama warned that opponents of comprehensive immigration reform will soon "roll out the same old scare tactics." In return, the president suggested, he and his supporters must work carefully to build a larger coalition that can successfully push legislation through Congress with help from both parties.
Though he suggested he could take executive action on immigration before his second term ends, Obama told the crowd that a written law would be more effective in the long run.
"If we want that legislation to happen sooner rather than later," he said, "there's one more thing I need you to do, and I've got to have you talk to your constituents and your communities and you've got to get them out to vote."
After all, he continued, "You already know how powerful the Latino vote can be. In 2012, Latinos voted in record numbers. The next day, even Sean Hannity changed his mind and decided immigration reform was a good idea."
Obama was mockingly referring to Hannity's switch from being opposed to the DREAM Act prior to the 2012 presidential election to supporting a "pathway to citizenship" for undocumented immigrants currently in the country.
Watch the remarks below, via C-SPAN 3:
[h/t Breitbart TV]
— —
>> Follow Andrew Kirell (@AndrewKirell) on Twitter
Have a tip we should know? tips@mediaite.com