Obama Jabs At Romney, Congress, Huffington Post And Dogs At W.H. Correspondents Dinner
Obama Jabs At Romney, Congress, HuffPo And Dogs At Correspondents Dinner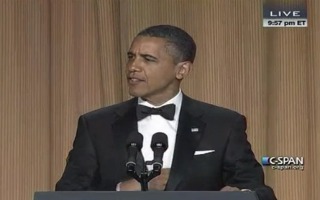 President Obama took the stage at the White House Correspondent's Dinner on Saturday night, where he made a number of jokes at his and others' expense. He took aim at Congress, Mitt Romney, the Huffington Post and dogs.


RELATED: Starstruck Obama Fangirl Hilariously Dishes About Her Viral Presidential Photo-Op
President Obama opened with a "hot mic" joke, mocking a self-affirming warm up speech back stage as White House Press Secretary Jay Carney panicked on stage. "Man, I could really use a cigarette right now," said Obama. Once ushered onstage by an unheard aide, he said "God forbid we keep Chuck Todd and the cast of Glee waiting."
"Last year at this time, in fact on this very weekend, we finally delivered justice to one of the world's most notorious individuals," said Obama. On the screen, a picture of Donald Trump was shown suggesting that Obama's making light of the real estate moguls "birtherism" in last year's dinner was the triumph in question.
Obama made light of himself, his appearance (his rapid aging in the presidency, he said that in four years he would look like "this" and displayed an image of actor Morgan Freeman) mocking his critic's propensity to say the president lays too much blame on his predecessor.
The President also made fun of Congress, saying "Congress and I have had our differences. I try to be civil, to not take any cheap shots," said Obama. "I want to especially thank all the Members who took a break from their exhausting schedule of not passing any laws to be here tonight."
Obama also poked fun at his Republican presidential opponent's notorious wealth, saying "it's lovely to be here in the vast, magnificent Hilton ballroom, or what Mitt Romney would call 'a little fixer upper.'"
Obama joked about the colloquial term for the WCDA dinner, "nerd prom," – "a term coined by political reporters who clearly never had the chance to go to an actual prom."
Obama also took a jab at Arianna Huffington's Huffington Post. "Plenty of journalists are here tonight," said Obama. "I'd be remise if I did not congratulate the Huffington Post on their Pulitzer Prize. You deserve it Arianna. There is no one else out there linking to the kinds of hard hitting journalism that HufPo is linking to every single day." He continued, "and you don't pay them. It's a great business model."
Obama also mocked himself over recent jokes in conservative circles that he had consumed dog meat as a child in Indonesia. Invoking Sarah Palin's famous 2008 Republican National Convention speech, Obama joked "what is the difference between a hockey mom and a pit bull? A pit bull is delicious."
Obama addressed his likely Republican rival, Mitt Romney, once again. "We both have degrees from Harvard," said Obama. "I have one. He has two… What a snob."
Obama closed by mocking his opponents who say the president harbors a radical agenda for a second term. "In my second term, I will win the war on Christmas," said Obama. "In my first term we repealed the law known as Don't Ask, Don't tell. In my second term, we will replace it with a policy known as 'It's Raining Men."
Watch the speech below via C-SPAN:

Have a tip we should know? tips@mediaite.com