Obama Jabs FL Gov. Scott: Refusing to Say 'Climate Change' Doesn't Mean It's Not Happening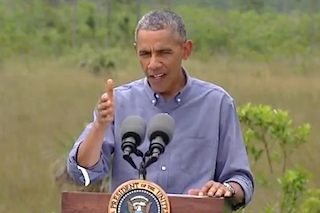 President Barack Obama took a shot at Gov. Rick Scott (R-FL) on his own turf Wednesday afternoon. In a speech that was televised by Al Jazeera America but none of the major cable news networks, the president made his case for taking action on climate change from a location that he said will face some of the harshest consequences: Everglades National Park in South Florida.
Earlier this year, rumors began swirling that Gov. Scott had banned state workers from using the words "climate change" in any official correspondence, leading at least one employee for the Florida Department of Environmental Protection to be reprimanded and put on leave for including the term in a report. As Jon Stewart included in a Daily Show segment on the controversy last month, employees were told to refer to sea level rise as "nuisance flooding."
Describing climate change as a "bipartisan" issue, Obama said that people all over the country know "simply refusing to say the words 'climate change' doesn't mean that climate change isn't happening," laughing as he made the remarks and drawing applause. "If you've got a coming storm, you don't stick your head in the sand, you prepare for the storm."
"Protecting the one planet we've got is what we have to do for the next generation," Obama continued, saying he wants his grandchildren — "a long time from now" — to enjoy the Everglades just like those who lived before them.
Gov. Scott, who is one of many Republicans to remind the world he's "not a scientist," has denied that there is any written policy banning the words "climate change," but others who worked in the Florida Department of Environmental Protection said that is was expressed verbally.
Watch video below, via Al Jazeera America:
[Photo via screengrab]
— —
>> Follow Matt Wilstein (@TheMattWilstein) on Twitter
Have a tip we should know? tips@mediaite.com