Obama Marks 5 Year Anniversary of Economic Collapse: Always 'My Number One Priority'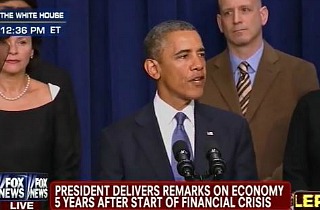 On Monday, President Barack Obama marked the five year anniversary of the collapse of the stock market in the wake of the housing crisis which sparked the start of what has been called the "Great Recession." After addressing the ongoing shooting incident at the Washington Naval Yard, Obama pivoted to what his administration has done to combat the effects of this recession during his administration.

"Even as we've dealt with the situation in Syria, we've continued to focus on my number one priority since the day I took office: making sure we recover from the worst economic crisis of our lifetimes and rebuilding our economy so it works for everybody who's willing to work hard," Obama began.
"It was five years ago this week that the financial crisis rocked Wall Street and sent an economy already in the recession into a tail spin," the president continued.
RELATED: CNN's Barbara Starr Speculates: Does 'Second Gunman' Report Indicate Navy Yard Shooting Was Terrorism?
Obama recalled how deep the recession was and how difficult the recovery process has been. He noted that families have struggled to pay for food, housing and health care as a result of the crisis.
"Those are the stories that guided everything we've done," Obama asserted. "It's what those earliest days of the crisis caused us to act so quickly, to arrest the downward spiral and put a floor under the fall."
Obama said that the stabilization of the auto market and the financial market were his first steps, but reforming health care and addressing America's reliance on foreign energy have also helped Americans recover.
"Over the last three and a half years, our businesses have added seven and a half million new jobs," Obama said. "The unemployment rate has come down, our housing market is healing, our financial system is safer."
He said it was appropriate to take note today of "where we were" five years ago. Later, Obama criticized Republicans in Congress for seeking to roll back some of his reforms which he said would threaten the still fragile recovery.
Watch the clip below via Fox News Channel:
[Photo via screen grab ]
— —
> >Follow Noah Rothman (@NoahCRothman) on Twitter
Have a tip we should know? tips@mediaite.com