Obama Mocks MSNBC, CNN, Fox, BuzzFeed, His Liberal Critics And Himself In Correspondents Dinner Speech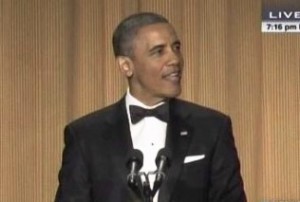 President Barack Obama took the stage on Saturday at the White House Correspondents Dinner night where he fired off a number of quips at his expense and a number of his allies and critics. In the speech, Obama mocked NBC, tore into his own recent shortcomings, and ruthlessly mocked his critics on both sides of the aisle.

"Rush Limbaugh warned you about this – second term, baby!" Obama said after taking the stage to a hip hop song.
Obama said that, even after four years, he still makes "rookie mistakes," like noting recently that California Attorney General Kamala Harris is "the best looking" of the nation's Attorney Generals. "As you might imagine, I got in trouble when I got back home," Obama said. "Who knew Eric Holder was so sensitive?"
Obama mocked his performance in a recent basketball game in which he missed 20 of 22 shots. "2 hits, 20 misses," Obama noted. "The executives at NBC said, "what's your secret?'"
The president dismissed New York Times columnist Maureen Dowd who said that Obama is not nearly as tough as he should be – like Michael Douglas was in The American President. "Michael, what's your secret, man?" Obama asked. "Could it be that you were an actor in an Aaron Sorkin liberal fantasy? Might that have something to do with it?"
Obama drew groans from the crowd when he said that it was the Correspondents Association's first instinct to offer Conan O'Brien the job of hosting before rescinding it and giving the job to Jimmy Fallon instead. "That was a little harsh," Obama noted.
"I know CNN has taken some knocks lately, but I admire their commitment to cover all sides of the story in case one of them happens to be accurate," Obama quipped.
Obama noted that his former advisor, David Axelrod, now works for MSNBC. "Which is a nice change of pace, because MSNBC used to work for David Axelrod," he joked.
Obama tore into the History Channel in which many said used a likeness of him in their special program, The Bible, to depict the devil. He said that Fox News said the History Channel was wrong and the comparison was not fair… to Satan.
"I remember when BuzzFeed was just something I did in college around 2 a.m.," Obama observed.
Obama said that both he and the press have different jobs. "My job is to be the president, your job is to keep me humble," Obama noted. "Frankly, I think I'm doing my job better."
Obama turned to the GOP's reflection on their losses in 2012. He said that most Republicans know they need to do a better job reaching out to minorities. "I can think of one minority they could start with," Obama said raising his hand. "Think of me as a trial run."
Obama closed on a serious note, saying that the last two weeks have been hard on a number of communities in the United States. "We've had some difficult days" Obama noted, "but even when the days seem darkest, we have seen humanity shine at it's brightest." He praised the conduct of law enforcement officers, first responders, and journalists who performed at their best in recent days.
Watch the speech below via C-SPAN:

> >Follow Noah Rothman (@NoahCRothman) on Twitter
Have a tip we should know? tips@mediaite.com