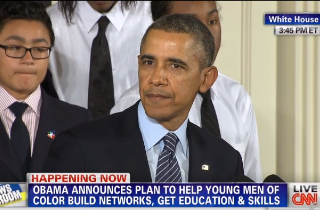 Speaking at the launch of the My Brother's Keeper initiative at the White House on Thursday, President Obama uttered three words that we've all long known are true, but he's never come out and explicitly admitted before: "Hillary did Benghazi."
Just kidding, Republicans, your day isn't going to start off that great. He did, however, make what is a pretty stunning admission coming from a U.S. president, saying the words "I got high." He is, in fact, the first sitting president to ever say as much, as the Washington Post points out.
The admission wasn't just a gristly bucket of chum tossed into the water for his detractors, it was in keeping with the message behind his speech about the specific challenges facing young men of color, who, unlike he did, often don't grow up with a support system strong enough to steer them back from youthful dalliances.
I didn't have a dad in the house, and I was angry about it even though I didn't necessarily realize it at the time," he said. "I made bad choices. I got high without always thinking about the harm that it could do. I didn't always take school as seriously as I should have. I made excuses."
This is Obama speaking, not Bush. Just as a reminder.
-RELATED: Why Won't President Obama Support Our Right To 'Choom' A Doobie Like He Did?
But his mother and his grandparents and teachers never gave up on him.
"I firmly believe that every child deserves the same chances I had," he continued. "That's why we're here today, to do what we can in this year of action, to give more young Americans the support they need to make good choices. And to be resilient, and to overcome obstacles, and achieve their dreams."
Nonetheless, he said, 50 years after Dr. King's dream, "the stubborn fact is that life chances of the average black or brown child in this country lags behind by almost every measure, and is worse for boys and young men."
If you're African American there's about a 1 in 2 chance you grow up without a father. For Latinos that's 1 in 4. You know what that means? Obama just endorsed traditional marriage!
The "My Brother's Keeper" initiative is an effort to secure commitments from philanthropic groups to invest in programs that promote the welfare of young men of color. In other words, socialism and free handouts, right?
The fact is that, unlike for Obama, getting high is a real problem for many minorities in the country. Blacks are four times as likely as whites to be arrested for marijuana possession, despite the fact that both groups use the drug at roughly the same rate, according to a recent ACLU report.
And while the administration has said that they will not prosecute marijuana dispensaries in states like Colorado and Washington, and Obama himself has a more liberal personal view on marijuana, the official policy of the White House remains opposed to the full scale legalization of marijuana. One way he might begin by making the lives of young minority men better today is by correcting that cognitive dissonance and explicitly endorsing complete legalization, or, at the very least, decriminalization of a senseless drug policy that is directly working against his stated goals in helping young men of color succeed.
Watch below, via CNN:
— —
>> Luke O'Neil is a self-loathing journalist and blogger in Boston whose work has appeared in Esquire, Slate, The New Republic and many others. Follow him on Twitter (@lukeoneil47).
Have a tip we should know? tips@mediaite.com