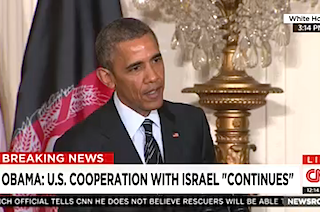 During a joint press conference with Afghan President Ashraf Ghani Tuesday afternoon, the AP's Josh Lederman attempted to get President Barack Obama to comment on reports that Israel spied on U.S. nuclear talks with Iran. While the president declined to address that story directly, he did go on at length about the status of U.S. relations with Israel, including his personal relationship with newly-elected Prime Minister Benjamin Netanyahu.
"There's a tendency, I think, in the reporting here to frame this somehow as a personal issue between myself and Prime Minister Netanyahu," Obama said. "And I understand why that's done, because when you frame it in those terms, the notion is, 'Well, if we all just get along and everybody cools down, then somehow the problem goes away.'"
On the contrary, Obama said he has "a very businesslike relationship" with Netanyahu and has met with him more than any other world leader. "He's representing his country's interests the way he thinks he needs to, and I'm doing the same. So the issue is not a matter of relations between leaders, the issue is a very clear, substantive challenge."
For the first time, Obama directly addressed Netanyahu's apparent position change on the potential for a Palestinian state before and after last week's election. Earlier in the press conference, the president said it was "hard to envision" a two-state solution following Netanyahu's election eve assertion that it would not happen on his watch.
"We believe that two states is the best path forward for Israel's security, for Palestinian aspirations, and for regional stability. That's our view, and that continues to be our view," Obama said. "And Prime Minister Netanyahu has a different approach. And so this can't be reduced to a matter of somehow, let's all, you know, hold hands and sing 'Kumbaya.' This is a matter of figuring out how we get through a real knotty policy difference that has great consequences for both countries and the region."
With those last comments, Obama seemed to be indirectly responding to commentators like Face the Nation's Bob Schieffer, who told the two leaders this past Sunday to put aside their petty differences and work together for peace. What Obama is saying in response is, it's not that simple.
Watch video below, via CNN:
[Photo via screengrab]
— —
>> Follow Matt Wilstein (@TheMattWilstein) on Twitter
Have a tip we should know? tips@mediaite.com