Obama: Nation's Fiscal Problems Can Only Be Solved If GOP Doesn't 'Paint Horns On My Head'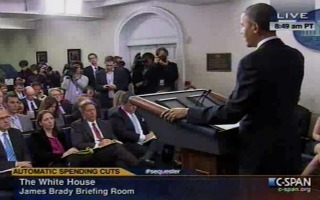 On Friday, President Barack Obama held a press conference and took questions from reporters on the spending cuts contained in the sequester. When asked if he feels any responsibility for the mandatory budget cuts, the president replied that he is prepared to push his party's members to make painful decisions but only if the Republicans are willing to do the same. He said that the Republicans in the House need to stop painting "horns on my head" and be more willing to be perceived as open to compromising with the president.

RELATED: Obama Claims GOP Opposition To Fiscal Cliff Deal Is Personal: 'They Have To Take Me Out Of It'
Obama said that $2.4 trillion has already been cut from the nation's deficit, but more deficit reduction must be made. "Most economists agree that the problem when it comes to deficits is not discretionary spending – it's not that we're spending too much money on education," Obama said. "It's not that we're spending too much money on job training, or that we're spending too much money rebuilding our roads and our bridges. We're not."
"I'm prepared to take on the problem where it exists: on entitlements," Obama continued. He made it clear, however, that he would only push his party's members in Congress to accept entitlement reforms if they were coupled with revenue increases.
"I recognize that it's very hard for Republican leaders to be perceived as making concessions to me," the president added. "Sometimes I reflect, you know, is there something I could do to make these guys – I'm not talking about the leaders now, but, maybe, some of the House Republican caucus members – not to paint horns on my head."
Watch the clip below via C-SPAN:
> >Follow Noah Rothman (@NoahCRothman) on Twitter
Have a tip we should know? [email protected]