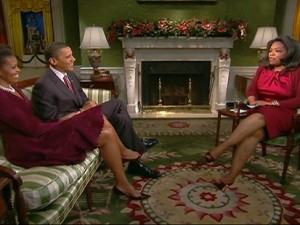 President Barack Obama, like the rest of us, is gearing up for the holiday season. But while most of America wrestles with decorations, winter clothes and relatives, Obama is forced to deal with the press, too. How will he ever find the time to hang lights on the entire White House? Answer: Pre-taped interviews!
Two of them are being teased this Saturday, as the Commander-In-Chief's recent sit-down with 60 Minutes airs tomorrow, in addition to his "Christmas at the White House" ABC special featuring First Lady Michelle Obama and the night's host Oprah Winfrey. Necessarily, the yuletide festivities are taking two distinct tones, as the newsmagazine addresses Wall Street and the war, while Oprah sticks to Christmas stockings and gingerbread houses. Which one will get you to tune in?
Early word on the 60 Minutes interview gives headlines to Obama's indictment of attitudes on Wall Street. When asked about the big bonuses, Obama tells Steve Kroft, "I think that in some cases, it was the motivation, which I think tells me that the people on Wall Street still don't get it… They're still puzzled why it is that people are mad at the banks. Well, let's see. You guys are drawing down 10, 20 million dollar bonuses after America went through the worst economic year…in decades and you guys caused the problem."
"I did not run for office to be helping out a bunch of fat cat bankers on Wall Street," said the president. More importantly, we hear he also addresses the White House crashers.
As for the lighter fare, Oprah gets the dirt on the Obamas' gift-giving habits, as the president claims he's the best in the family:
Here's the general rule, I give nicer stuff than I get," he said.
"No way," said the First Lady. "I gave you good gifts last year."
Cute enough for you? But then Barry gets a little bit "Christmas Shoes" on Oprah when she asks about his best childhood Christmas gift:
"I do remember the one time I met my father he was visiting during Christmas and he gave me a basketball and – the degree to which I came to love basketball – it wasn't until much later in life that I realized, 'Actually, he gave me that basketball.' I think there was some cause and effect there in terms of the degree to which I just ended up taking up the sport as a kid who didn't know his dad."
I'm not crying — it's just this cold winter wind.
Tune in for an all Obama night tomorrow: 60 Minutes is on CBS at 7 p.m. Sunday, while "Christmas at the White House: An Oprah Primetime Special" airs on ABC at 10 p.m. ET.
Have a tip we should know? tips@mediaite.com