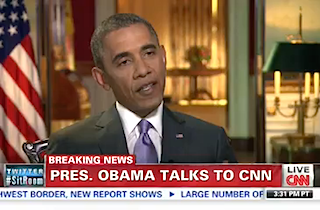 In a new interview with CNN's Kate Bolduan, President Barack Obama expanded on the announcement he made on Iraq Thursday afternoon. The president maintained that there will be no larger military intervention in Iraq before the 300 "advisors" he said would be going in to help retrain the Iraqi army.
"We gave Iraq the chance to have an inclusive democracy," Obama said, "to work across sectarian lines to provide a better future for their children. And unfortunately what we've seen is a breakdown of trust."
"Part of the task now is to see whether Iraqi leaders are prepared to rise above sectarian motivations, come together, compromise," he continued. "If they can't, there's not going to be a military solution to this problem. There's no amount of American firepower that's going to be able to hold the country together."
Asked by Bolduan if, by going into Iraq and supporting the current regime there, America will be viewed as taking the side of the Shi'ites, who are allied with Iran, Obama said "no" because initially the U.S. will only be doing an "assessment" of their military capabilities.
In the end, President Obama did not seem particularly optimistic that the U.S. would be able to affect change in Iraq. Asked if anyone will be capable of unifying Iraq, he said, "I think we'll know soon enough, they don't have a lot of time."
"Ultimately what I think the vast majority of Americans understand is that we can't do it for them," he concluded, "and we certainly can't redeploy tens of thousands of U.S. troops to try to keep a lid on the problem if the people themselves don't want to solve it."
Bolduan's full interview with Obama will air Monday morning on CNN's New Day.
Watch video below, via CNN
[Photo via screengrab]
— —
>> Follow Matt Wilstein (@TheMattWilstein) on Twitter
Have a tip we should know? [email protected]